By Williamsburg Visitor Staff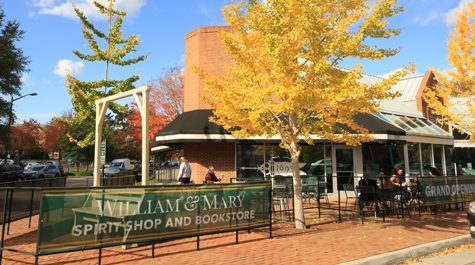 A favorite holiday shopping destination in Williamsburg, Virginia is the William & Mary Bookstore. It's new location is set to open at 601 Prince George St. on Wednesday, Dec. 8, 2021.
The bookstore has long been a locals-favorite place to get William & Mary spirit items and other W&M and Williamsburg-area gifts. The store is operated by Barnes & Noble College and relocated from its former home in Merchant Square.
The new location allows the store to be closer to W&M students while also having easy access and free parking for all shoppers.
The new store is also highlights a partnership between Barnes and Noble and Fanatics. Fanatics.com sells officially-licensed merchandise for NCAA, NFL, MLB, NBA, NHL, MLS, UEFA, NASCAR and more. They  have a huge selection of William & Mary jerseys, shirts, hats, collectibles, memorabilia, and more. This new partnership will provide more apparel options through a new website that adds to the store's inventory.
Looking for more information? Check out the W&M Bookstore Facebook page.
W&M Bookstore Hours
Monday through Saturday: 9 a.m. to 6 p.m.
Sunday: 12 p.m. to 6 p.m.
Want to stay up to date with all things Williamsburg? Sign up for our newsletter today!