Valentine's Day is this Sunday, February 14. Things are a little different this year thanks to COVID-19, but it's still possible to celebrate with your special someone. Thanks to outdoor dining and social distancing, you can still enjoy a romanic meal, or you can gear and gift up for a special day at home.
If you're looking for a Williamsburg experience, here's our top ideas for love in the 'Burg.
Williamsburg Flowers
Nothing says "I love you" like a beautiful bouquet of roses – the icons of romance and love. Since 1991, locally owned and operated Season's of Williamsburg has been offering only the finest flower arrangements, gifts, and accessories that will guarantee love at first sight. They also offer signature rose bowls and cubes, vase arrangements, and centerpieces. For something a bit different, you'll also find lamps, books, candles, jewelry, wall decor and wreaths.
---
---
Williamsburg Chocolates
A box of chocolates is a classic gift on Valentine's Day, but a one-of-a-kind handmade chocolate gift from a Williamsburg candy shop is truly something sweet. Any local would tell you that Wythe Candy & Gourmet Shop located at 414 W Duke of Gloucester Street is a longtime favorite. They offer gourmet food, fine confections, hand dipped and decorated caramel apples and chocolate strawberries, and much more! Or check out Kilwins with their original-recipe treats ranging from truffles to candy apples. If you aren't in town for Valentine's Day, don't worry – you can order online! Don't miss With Candy Shop's Chocolate Dipped Strawberries! Check out their facebook page for more information.
Other Romantic Treats
Valentine's Day Donuts
This February, Duck Donuts of Williamsburg is offering a gift that goes above and beyond the traditional bouquet of flowers and chocolate. Now through Feb. 28, guests can gift their special someone with the Love Assortment, which features Valentine's Day inspired sprinkles, limited-time HEATH toffee crunch topping and two large candied roses. Local family-owned and operated Emily's Donuts is also offering a Valentine's Day theme boxes of donuts.
---
Valentine's Day Crafts and Classes
Does your Valentine like to drink coffee or tea? Paint a set of heart-themed mugs at Paint on Pottery Too. Come in now to paint and have it ready for a surprise Breakfast in Bed, or take a couple of them home in a Paint-to-go kit for a fun Valentine's day activity. You can also choose to paint a lovely bisque. Any way you go, your Valentine will cherish this unique mug painted by you for years to come! Learn more
La Tienda Tapas Bar and DIY Workshop
La Tienda and the DIY Workshop are offering a Valentine's Date Night In which includes a charcuterie board from La Tienda and a two sign kit from DIY Workshop so you can have a fun evening at home. Place your orders at DIY Workshop's website between now and February 11th. Pickup is on February 13th between 12-4:00 at La Tienda Tapas Bar! Place your order here!
Take a Virtual Class Together
TheTableLessTraveled offers LIVE virtual cooking classes with favorite chefs from all around the world. You'll be able to make a great meal, make friends and have some fun from the safety of your own kitchen. Learn More – If cooking isn't your thing, try a music class instead. TakeLessons connects students with professional teachers and experts. From piano to guitar to singing lessons, you're sure to find an option to strike the right note this Valentine's Day. Learn more.
---
---
Love Letters in Yorktown
Love is in the air at the Yorktown Waterfront ahead of the big Valentine's Day Winter Market next Saturday, February 13! It's the location of the Virginia Tourism Corporation's traveling LOVE artwork. Come on down and take your picture for a chance to win a table for two featuring Riverwalk Restaurant's Chef's 3-Course Valentine's menu. All you have to do is upload your picture in the comments with a caption about why you love Riverwalk Landing. All couples welcome!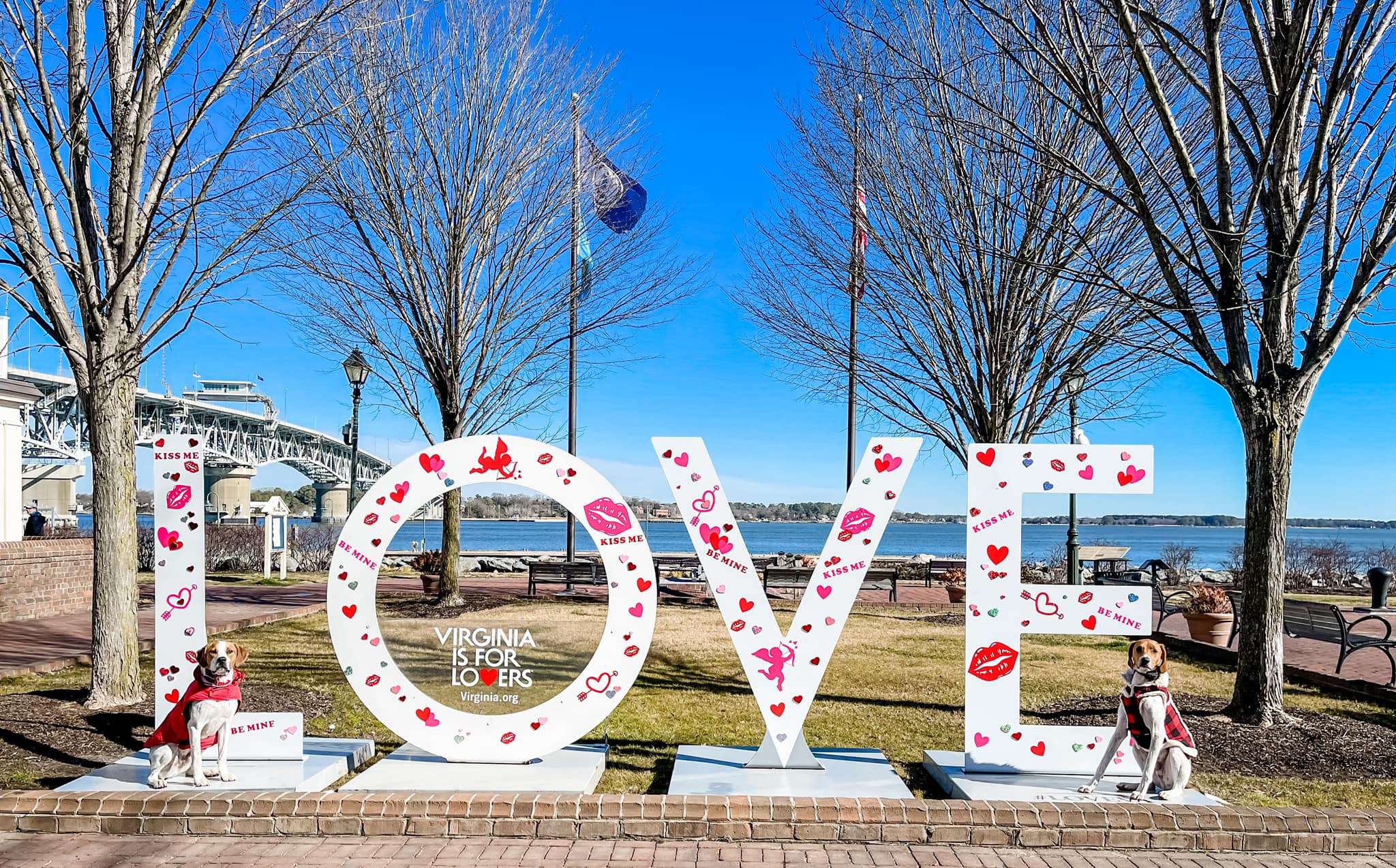 ---
Williamsburg Restaurant Deals for Valentine's Weekend
Amber Ox – Amber Ox will be celebrating their true love of food and beverage with a special Valentines menu pairing. The bar team will be mixing up love potions (pink of course). A special Valentines Brunch will be offered from 10am – 1:30pm! They will also have a featured Valentines Dinner menu all weekend composed of seasonal favorites along with features such as Local Apple & Ham Biegnet wit Foie Gras Aiol. Reservations recommended, call or book online at www.TheAmberOx.com
Cochon on 2nd – a special Valentine's day menu will be served Friday- Sunday. 12-14th. Double dates get 10% off as tables are a hot commodity. The menu features lobster bisque, rocket arugula salad, rack of lamb, salmon, or slow-smoked chicken, plus dessert options. Be sure to book early! Learn more and make your reservations
Giuseppes – Feb. 12-14, dinner for two, choose from lamb shank or halibut, plus sides and creme brûlée. Learn More
Hounds Tale – Hounds Tale will be having a Breakup Brunch featuring The Virginia Beer Company's new release "Breakup Brunch Oatmeal Stout" made from Aroma's coffee beans. Dogs are allowed (even inside!) Unique and fun Valentine's Day gifts will also be available including take-home treats such as Chocolate, Meat and Cheese boards, Truffles, and more. Learn more
La Casona – on Sunday Feb. 14, celebrate Valentine's Day with a fabulous special consisting of: mixed fajitas on the plate, rice with chicken or chicken with spinach for two people, plus two 16 oz house margaritas. $40! All items from the desserts menu only $4.99. Learn more
Moody's Kitchen – Moody's food was designed to be perfect at home. Whether you want it hot and ready to eat or to be reheated to perfection quickly at home, high-quality restaurant food for Valentine's day is yours without the extra cost of going out. Check out the menu here.
Shoofly Dairy Bar has all-natural, homemade Red Velvet Whoopie Pies and Cupid's Ball snoballs made with pink dragon, black cherry and Marshmallow fluff. Learn more
Sipping Flea – Check out Sipping Flea's cute four packs of their Mini Donuts made up special just for Valentines Day! Four Minis and a Valentine card for just $2.25 each. Pre-orders are encouraged. In store availability begins on February 10th! Other options include Big donuts, little donuts, hot cocoa bombs and chocolate covered strawberries. Hours: Tuesday-Saturday from 8:00 am-3:00 pm! Learn more
---
Williamsburg-Themed Romance
A Ride Through History
In classic romance movies, the happy couple is often featured riding off into the sunset. Why not make this movie trope a romantic reality? A cozy and intimate horse-drawn carriage ride through Colonial Williamsburg is the ultimate in romance. Where else can you wind through quiet streets while taking in a number of 18th century living-history sites including the Capitol Building, quaint colonial taverns, and the Governor's Palace? Carriage rides are offered daily, weather permitting, and do have limited availability. Tickets may be purchased at the Lumber House Ticket Office (on Duke of Gloucester Street across from Palace Green), or the William Pitt Store (on the corner of Duke of Gloucester Street and Botetourt Street) on the day of use.
Tickets can also be purchased online.
Ice Skating
Romance is in the air – and on the ice – on historic Duke of Gloucester St. The Liberty Ice Pavilion is a great way to spend a romantic afternoon before dinner or after brunch. Share a hot cider, hold hands, and take a spin around the rink in the beautiful setting of Colonial Williamsburg and Merchants Square. See hours and get tickets
Lover's Bridge
Another uniquely-Williamsburg experience is the Crim Dell Bridge on the campus of William & Mary. With its beautiful arched walkway and ornate design, it's not surprising that it has been nicknamed "Lover's Bridge." In fact, the Crim Dell is one of the most photographed spots in Williamsburg, and has frequently been ranked one of the most romantic places on a college campus in the United States. According to the myth, if you cross the bridge with the person you love – and kiss at the end – you'll stay together forever. With its close proximity to the colonial area, it's an easy and romantic stroll with a "wow" finish to celebrate your special relationship on Valentine's Day – or any day! The Crim Dell is located directly behind the historic Christopher Wren building near the beautifully landscaped Sunken Garden. It's the perfect spot for a Valentine's Day picnic!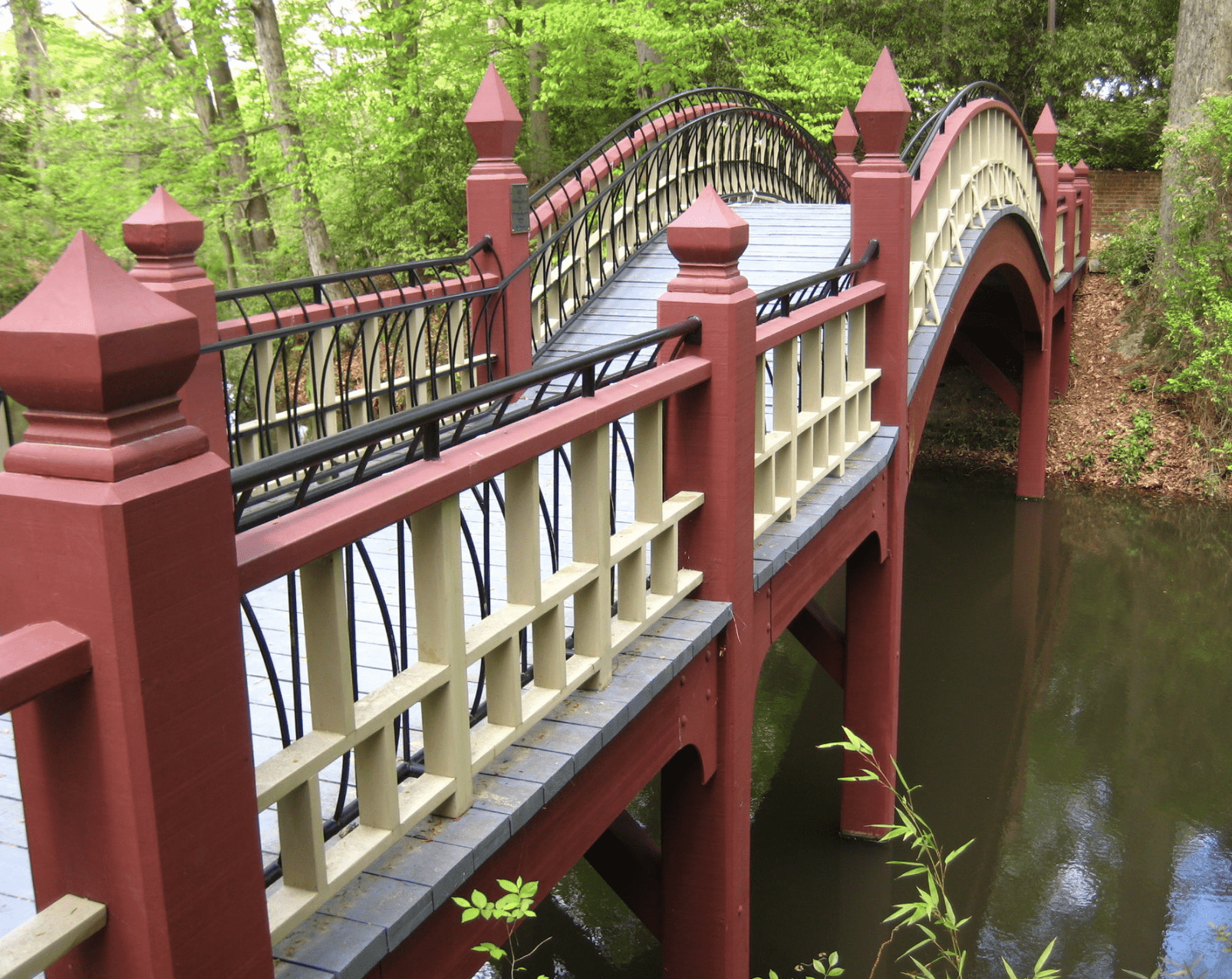 ---
---
Thanks for reading. All WilliamsburgVisitor.com content, articles, news updates, event calendars, Food Truck Tracker and Live Music Finder are always free!