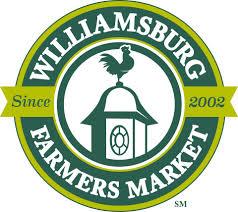 The Williamsburg Farmers Market is located in Merchants Square in the heart of historic Williamsburg, Virginia. Flowerbeds and benches offer a tranquil setting for this open-air, Virginia producer-only market. Over 35 vendors offer a variety of local products, among which are fresh seasonal produce, chicken, beef, pork, oysters, fish, crabs, prawns, herbs, potted plants, baked goods, confections, honey, cheese, cut flowers, handmade soaps, and more. Enjoy chef demonstrations, listen to live music, and learn while you shop.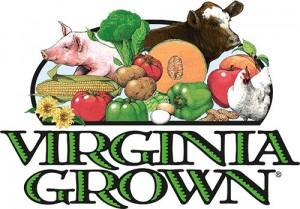 Saturdays, March 2 through December 21, 8:00 am -12:00 pm.  The Market accepts cash, credit cards, SNAP, and W&M Express.  See website for music, chefs and vendor information.  Free parking available.
About The Market
The Williamsburg Farmers Market features 40 vendors focused on produce, prepared food and farm related products grown or made in Virginia and has been serving between 1,000 and 1,500 people on any given Saturday. The market's live music and great location at Merchant's Square in Colonial Williamsburg make it both a local favorite and an attraction for visitors from across the country and around the world.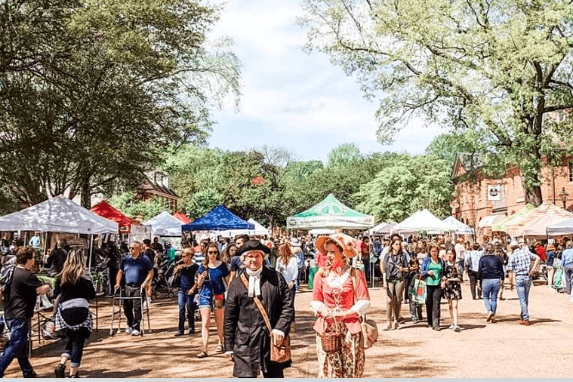 In operation since 2002, the market offers a diversity of products, bringing together farmers, bakers, watermen and a variety of prepared food vendors. Join us at our open-air market each week to share in the celebration of local, fresh food and community.
The Williamsburg Farmers Market does not allow reselling. That means that the people doing the growing and producing are the same smiling folks who sell those products to you at Market. Got a question about how your food is grown? You're at the right place, because at the Williamsburg Farmers Market, the salesperson is also the farmer!
VENDORS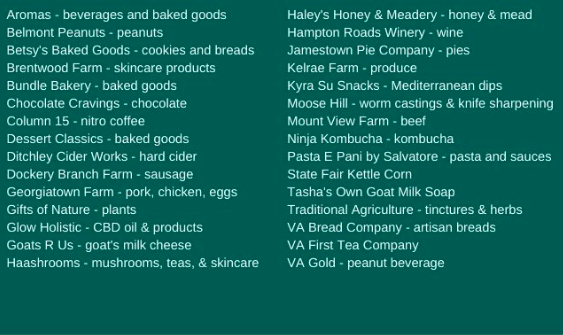 VENDOR RECIEPES