From farmer's markets to street festivals – Here's our top picks for can't-miss markets and more in Williamsburg!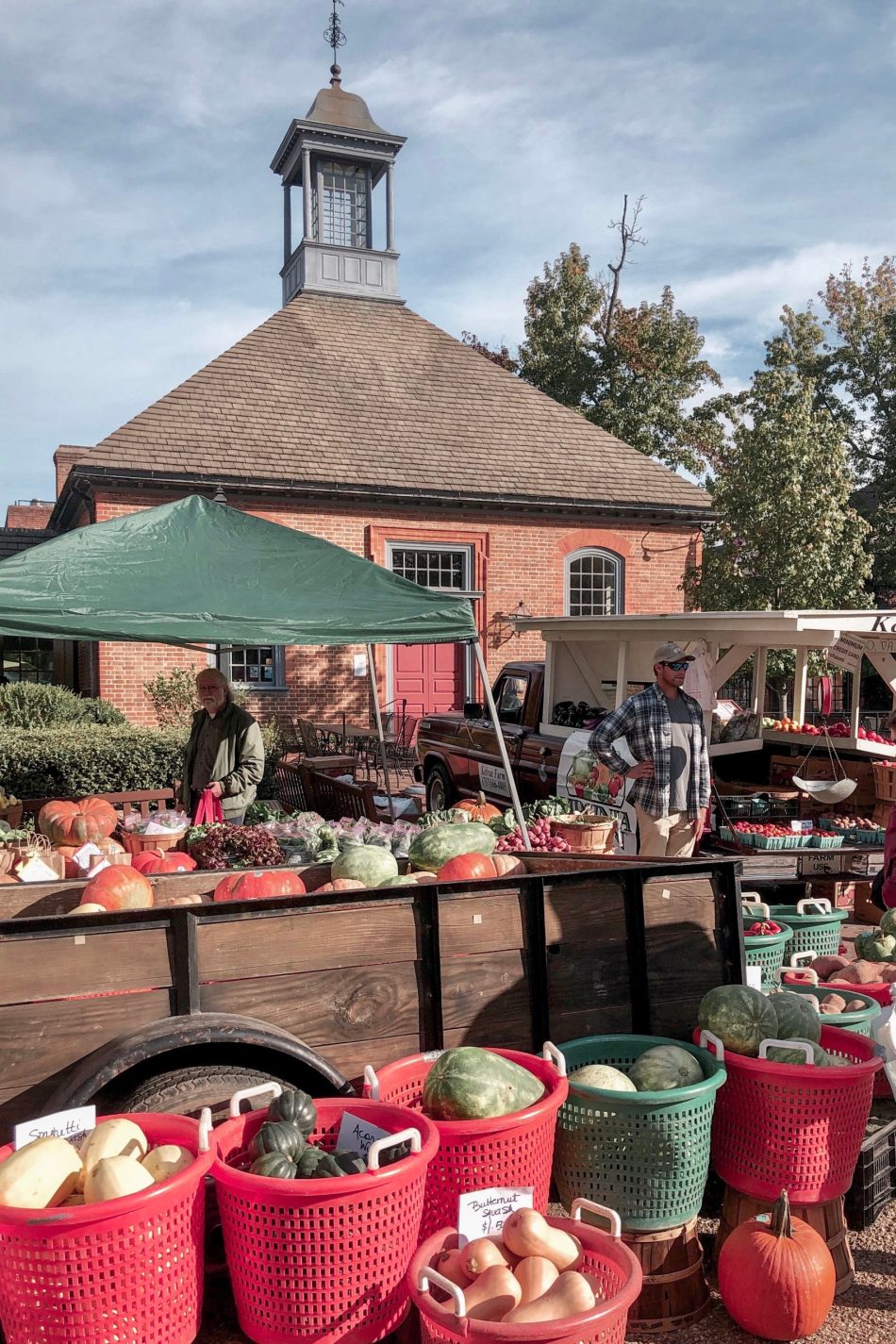 Visit the Market for local Virginia products including fresh seasonal produce, meats, seafood, baked goods, honey, cheese, cut flowers, handmade soaps, and more. To view the complete list of vendors, click here. Saturday, November 9, 8 AM – 12 PM. Merchants Square- Williamsburg 134 N Henry Street
Williamsburg, Virginia's only (almost all-year, the market is closed January and February) Street Festival is a can't-miss event! Held on the second Sunday of every month from 11a to 5p, March to December(11a-4p in November & December), you're invited to enjoy the beautiful city streets of downtown Williamsburg and Colonial WIlliamsburg to explore handmade crafts, art, food, and live music –  all in a family and dog friendly atmosphere.  The event features 75+ exhibits, performers, and displays through four blocks along Prince George Street. For the kids, you'll find arts and crafts,  face painting, local children's book authors, performers, and musicians. 420 Prince George St, Williamsburg, Virginia.
Holiday Pop Up Maker's Markets
11/26/22 11a-3p
12/3/22 11a-3p
12/10/22 11a-3p
12/17/22 11a-3p
Sweetheart Market Saturday 2/11/23 11a-3p
Saturday Nov 9, 9am – 3pm. During this extended farmers market, sample some of the best seafood in the area including oysters, clam chowder, and Virginia blue crabs. Don't miss two amazing seafood chef demonstrations. Chef Tina at Coastal Thirst will be making her Garlic Lime Shrimp over Avocado-Cilantro Lime Slaw and Chef Brian at Riverwalk Restaurant will show us how to make the perfect Lobster Roll! Plus nautical-inspired arts and crafts, pirates, Coast Guard vessel tours, hands-on activities and programs, a performance by the Royal Atlantic Band and more! FREE! Riverwalk Landing, 425 Water St, Yorktown, Virginia.
2022 Yorktown Market Days Schedule