Have a memorable Valentine's Day in Williamsburg Virginia with our top picks for flowers, chocolates, dinner, romantic activities and more!
by Cheyenne Morrison
---
It's almost Valentine's Day and, in romantic Williamsburg, love is always in the air. So, whether you're planning a surprise for someone special, a date with friends, or a small gesture of love – there really is something for everyone.
---
Where do I get flowers?
Nothing says "I love you" like flowers – the icons of Valentine's Day. Locally owned and operated Morrison's Flowers and Gifts offers fresh, personally delivered and speciality Valentine's Day arrangements for every taste and budget. Their premium gift packages guarantee love at first sight and include roses, chocolates, a balloon and even a teddy bear!
Morrison's popular 'Hugs & Kisses' bouquet is only $49.99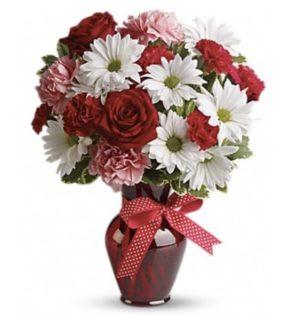 ---
What about the chocolates?
Everyone loves a box of chocolates on Valentine's Day, but one-of-a-kind handmade chocolates from a local candy shop will make it all the sweeter. Any Williamsburg'ian would tell you to look no further than Wythe Candy & Gourmet Shop with their original-recipe treats ranging from chocolates, candy, ice cream to fudge. Kilwins Williamsburg is a a family owned confectionary located at 414 W. Duke of Gloucester St. Merchant Square in Historic Williamsburg.
Don't miss Wythe's famous Chocolate Covered Strawberries!
Another popular option is Kilwins located at 421 Prince George Street – in the heart of the colonial area. Since 2015, owners and Williamsburg locals Chad and Laurel, have been delighting customers with the heavenly aroma of homemade waffle cones, plus, homemade truffles, fudge, and candy apples. If you aren't in town for Valentine's Day, don't worry. Shop online to peruse their delicious selection of custom made Valentine's Day assortments and samplers, all packed in a heart-shaped box to fit the occasion.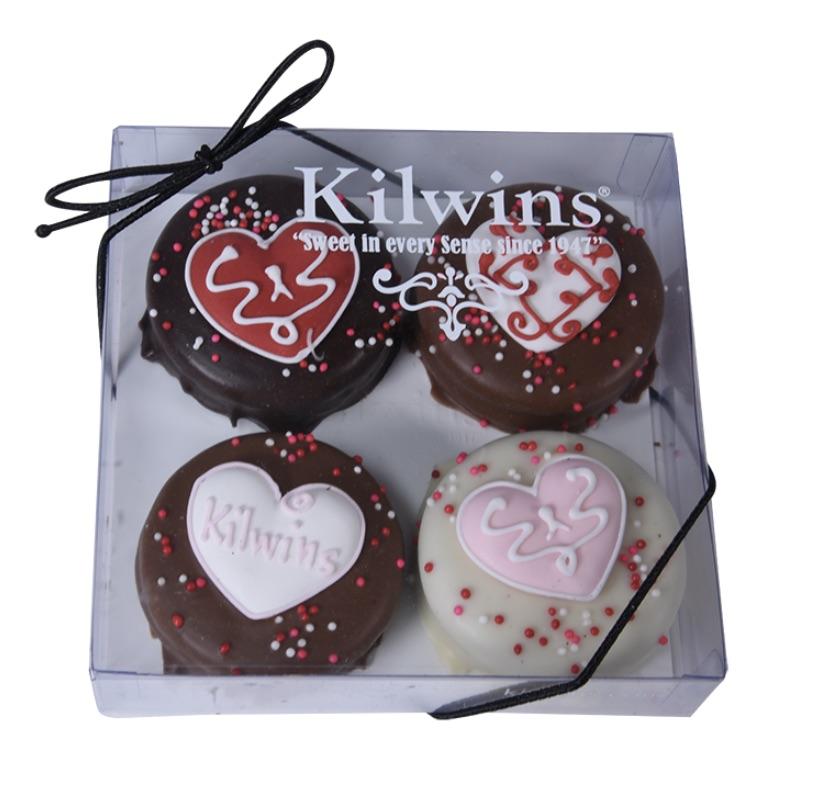 Don't miss Kilwins Valentine's Day Cookie Assortment just $10.00!
---
Are there any local Williamsburg bakeries where I can get a 'sweet' gift?
For a real taste of Williamsburg, you must check out the homemade goodness of Blackbird Bakery. Operated by local favorite David Everett (who also owns Dog Street Pub, La Piazza, and Blue Talon Bistro), at Blackbird Bakery, you'll enjoy made-from-scratch cakes, pies, tarts, croissants, breads, cookies, bombolini, and more, all made fresh daily in the heart of Colonial Williamsburg's Merchants Square. Specialty gift boxes of assorted sweets or cookies are available for Valentine's Day, or order your sweetheart a Strawberry Shortcake, Lemon Blueberry Bundt Cake, or a decadent Chocolate Crepe Cake.
Don't miss Cupid's Death Bomb – 7 Layers of Flourless Chocolate Mousse Cake, Mocha Mousse, Cocoa Meringue, Chocolate Ganache and Pink White Chocolate Truffle. (Serves 2) – just $12.95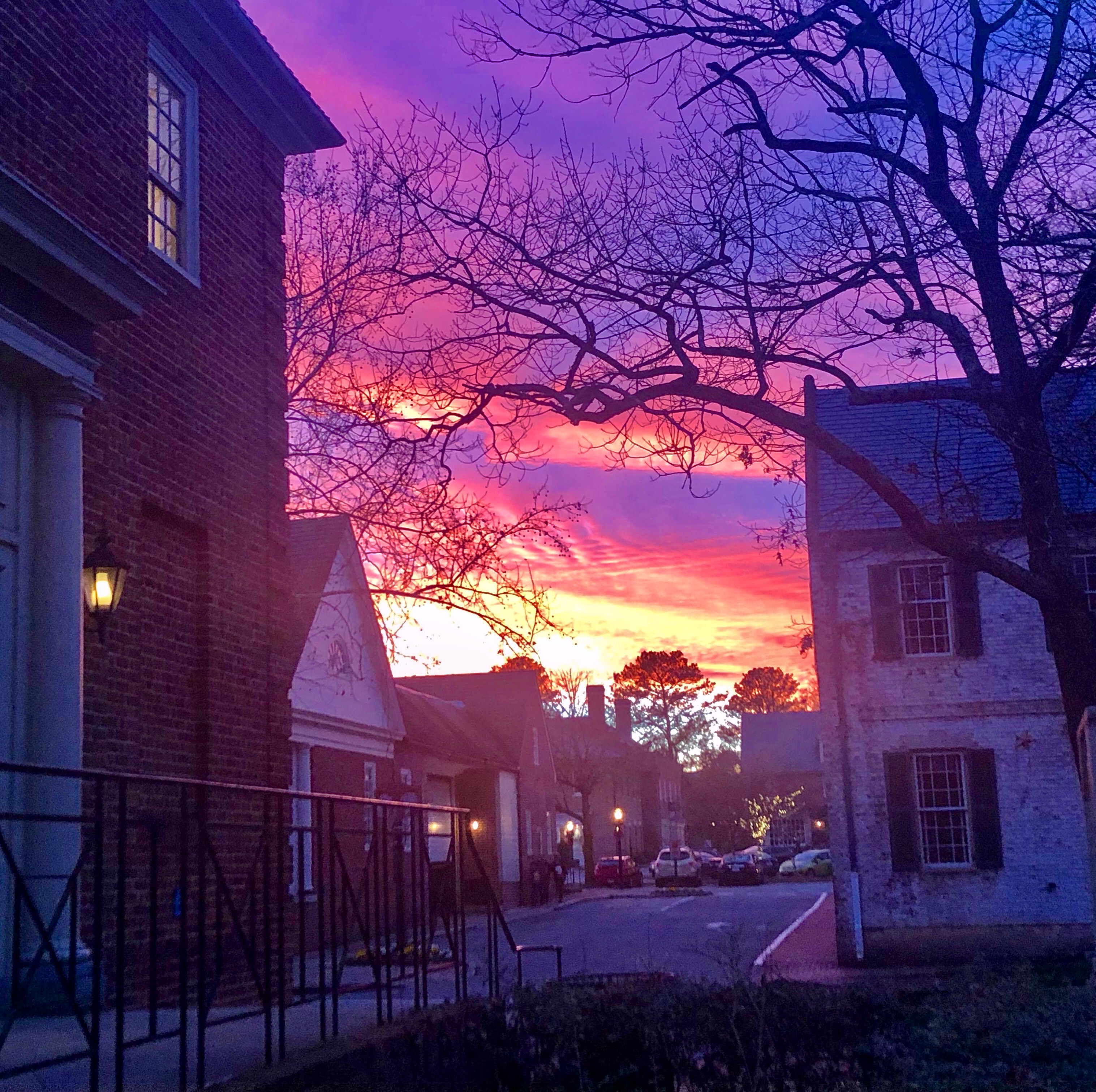 The story of Carrot Tree is not quite as old as some of the other stories in the Historic Triangle, but it is just as well-loved. In 1984, Debi Helseth used her grandmother's recipe to create a cake that was a must-have for all of her friends and family. Based on that success, she began her first commercial bakery operation right from her home garage. In 1995, she opened Carrot Tree Kitchens on Jamestown Rd., Williamsburg's favorite scratch bakery. Now she operates two locations, plus Toby's Dog House, a popular hotdog cafe.  Located at 1303 Jamestown Road 135 Colony Square, Williamsburg, VA 23185-2340
Don't miss – for Valentine's Day, Debi offers beautiful individually wrapped decorated mini cakes, cookie assortments, plus specialty heart-shaped or decorated cakes.
More Local Bakeries
---
How about something different?
Traditional Tea & Bike Rentals at Spoke & Art, 
For an out-of-the-ordinary Valentine option, don't miss Spoke & Art, a sweet little cafe and shop right on the Capital Bike Trail in Williamsburg. Stop in for traditional British Afternoon Tea, served with scones, cream and jam, tea sandwiches, dessert treats and macarons. Everything freshly made. Enjoy a cold beer or glass of wine and listen to live music (check the event calendar!) on the beautiful deck. If the weather is nice, Spoke & Art has a variety of bikes to rent for a romantic ride through the trails that are located just outside the doors! You can connect with roads and paths that will lead you directly to the James City County Marina and the Jamestown Settlement, the Colonial Parkway, Jamestown Island and Visitor Center, and the Jamestown-Scotland Ferry – all within a minutes of Spoke & Art!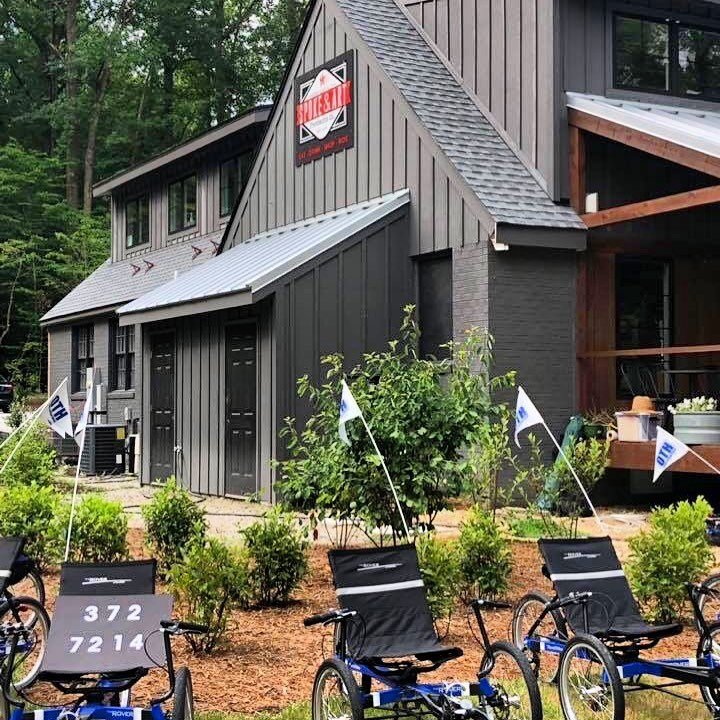 3449 John Tyler Hwy Williamsburg, VA 23185
---
What's the perfect romantic restaurant?
Just about any restaurant could be the setting for your Valentine's Day dinner, but why not splurge for something truly special? Fat Canary is a contemporary American dining experience that simply must not be missed. They've received the AAA Four Diamond award every year since opening in 2003 and have been voted Top 25 in the United States by TripAdvisor and Top 100 by OpenTable. Founded by locals Tom and Mary Ellen Power, and operated by their three children, this longtime-favorite serves up delicious and artfully prepared food paired with world-class service. While the wine, beer and cocktail menu is expansive, it is the culinary delights that truly shine. House-made mozzarella, Virginia Ham, roasted tomatoes, Rappahannock oysters, tuna tempura and pan seared scollops… these are just a few of the mouthwatering options for your special evening. Located at 410 W Duke of Gloucester Street in Colonial Williamsburg's Merchants Square, reservations are required and tables fill quickly!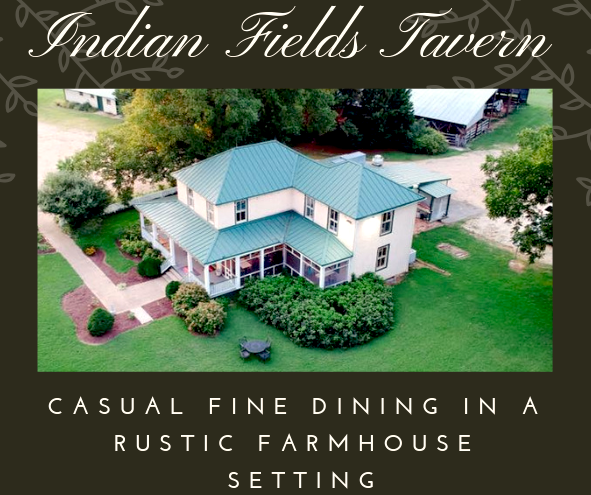 For something off the beaten path, Indian Fields Tavern never disappoints. This beautiful and rustic all-American farmhouse has been converted to a charming bistro featuring fresh, local and seasonal ingredients and craft beer. The ambiance is swoon-worthy with a cozy and comfortable seating, a bar, a screened porch, and a lovely outdoor dining area. Located on the Capital Trail in Charles City, it's easy to arrive by bike or car just a few miles from Williamsburg. Address: 9220 John Tyler Memorial Hwy. Charles City, Virginia
Other Romantic Restaurants
---
What if we want to turn Valentine's Day into a Weekend Getaway?
Valentine's Day Brunch and Weekend Escape at Williamsburg Winery
The Williamsburg Winery is offering a special brunch on February 13, 11AM – 4PM in honor of Valentine's Day. The local-inspired selections include oyster stew, steak and eggs, and Blood Orange Panna Cotta. There's no need to rush home after brunch if you chose the Romance of Wessex Hundred Package, a two day couple's retreat that pulls out all the stops. Enjoy a king room with wood-burning fireplace, couples massage, a wine flight for two, European continental breakfast for two, artisan chocolates, souvenir champagne flutes, – and much more. It is sure to be a fairytale Valentine's Day that will not be forgotten.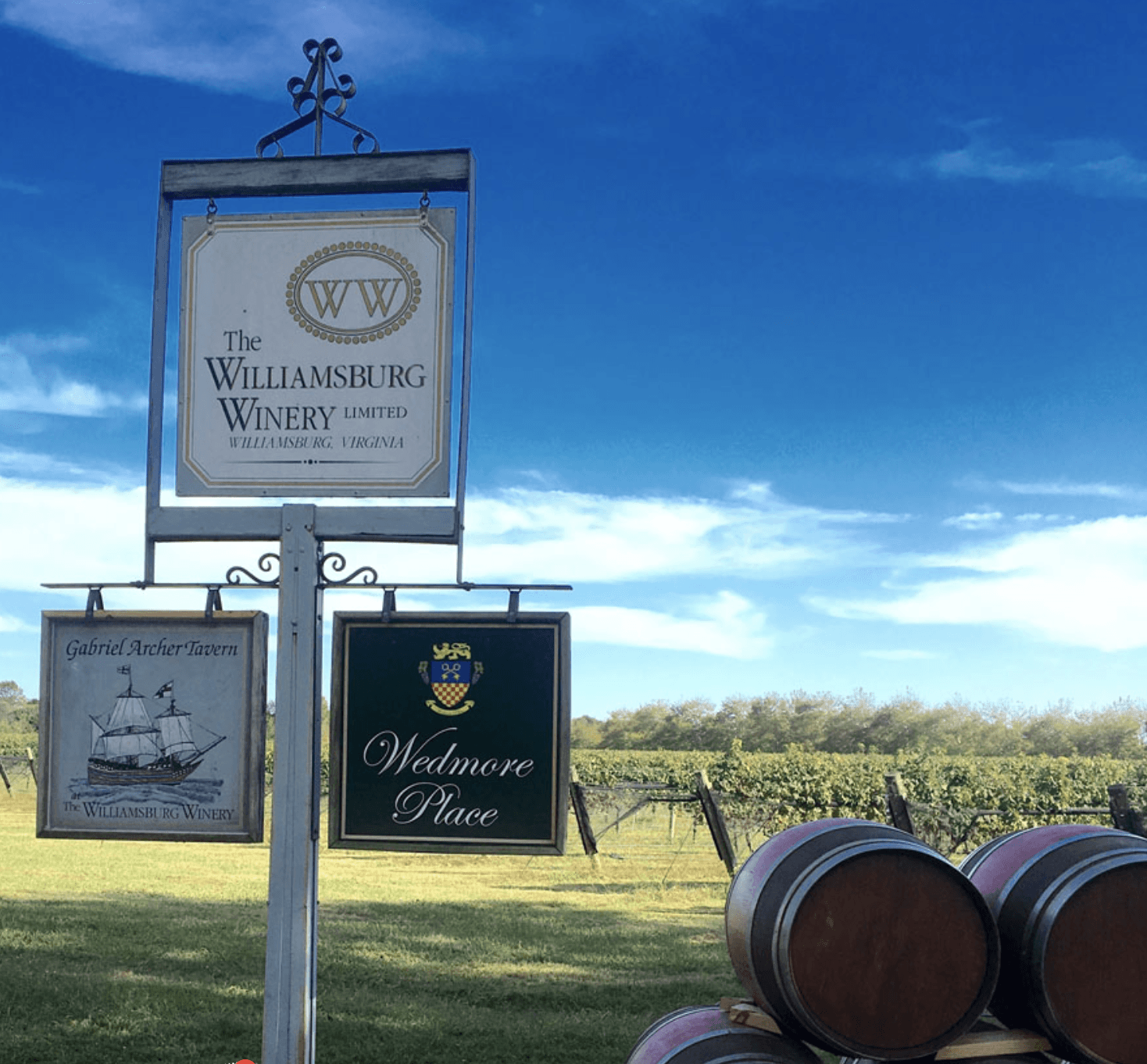 ---
What are some Valentine's Day activities that are unique to Williamsburg?
A Ride Through History
In classic romance movies, the happy couple is often featured riding off into the sunset. Why not make this movie trope a romantic reality? A cozy and intimate horse-drawn carriage ride through Colonial Williamsburg is the ultimate in romance. Where else can you wind through quiet streets while taking in a number of 18th century living-history sites including the Capitol Building, quaint colonial taverns, and the Governor's Palace? Carriage rides are offered daily, weather permitting, and do have limited availability.   Tickets may be purchased at the Lumber House Ticket Office (on Duke of Gloucester Street across from Palace Green), or the William Pitt Store (on the corner of Duke of Gloucester Street and Botetourt Street) on the day of use.
Tickets can also be purchased online.
Lover's Bridge
Another uniquely-Williamsburg experience is the Crim Dell Bridge on the campus of William & Mary. With its beautiful arched walkway and ornate design, it's not surprising that it has been nicknamed "Lover's Bridge." In fact, the Crim Dell is one of the most photographed spots in Williamsburg, and has frequently been ranked one of the most romantic places on a college campus in the United States. According to the myth, if you cross the bridge with the person you love – and kiss at the end – you'll stay together forever. With its close proximity to the colonial area, it's an easy and romantic stroll with a "wow" finish to celebrate your special relationship on Valentine's Day – or any day!
The Crim Dell is located directly behind the historic Christopher Wren building near the beautifully landscaped Sunken Garden. It's the perfect spot for a Valentine's Day picnic!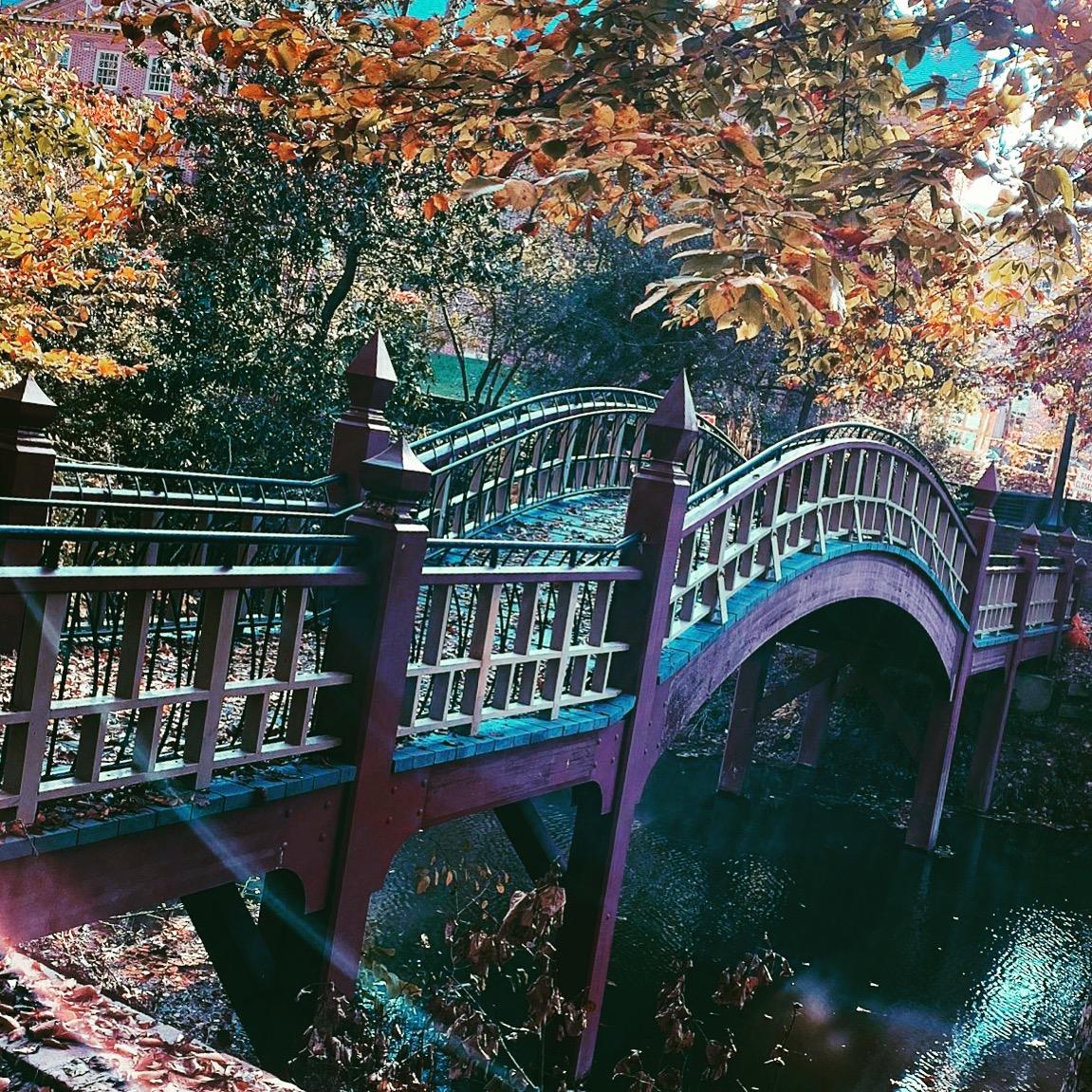 Williamsburg's Valentine's Day Farmers Market
If you're looking for a special gift with Williamsburg flair, be sure to stop by the Valentine's Day Market Feb. 12 in Merchants Square. The market features over 30 local vendors with a variety of baked goods, honey, plants, kombucha, coffee, mushrooms and more. The market runs 8am-12noon.
Additional Details
---