Halloween in Williamsburg Virginia 2022
Summer in Williamsburg Virginia offers fun in the sun, but it's not the only season worthy of a visit. From haunted ghost tours, to family events, to food and musical festivals and more – Fall in Williamsburg has plenty to offer because thrills (and chills!) are can be found in October for kids, adults, and families. 
Howl-O-Scream 
Hailed as "Virginia's Scariest Halloween Event", Howl-O-Scream transforms Busch Gardens into a scene straight from a horror movie. From Escape Rooms, Live Shows, and 'Terror-tories' / Scare Zones – completely redesigned parts of the park meant to spook even the biggest of horror veterans – there won't be any time for boredom. Howl-O-Scream is only available on select nights from September 9 to October 31, so be sure to check the schedule on their website. Howl-O-Scream is automatically included with regular admission, so be sure to enjoy both sides the park has to offer! 
This year, the  master of scare-monies will lead you in a fun and frightening new game show. There's also five haunted houses, five terror-tories™, four sinister shows, plus all the freaky creatures and scenes that you'll find around every corner. Coasters and other rides will be open for night rides, and guests over 21 can enjoy six Halloween-themed bars for drinks, or check out live music and dancing in two party zones.(Despite being open to children, the event is orientated towards adults. Please take caution if you would like to bring your young ones!)
Williamsburg and Yorktown Haunted Walks, Ghost Tours, and Pub Crawls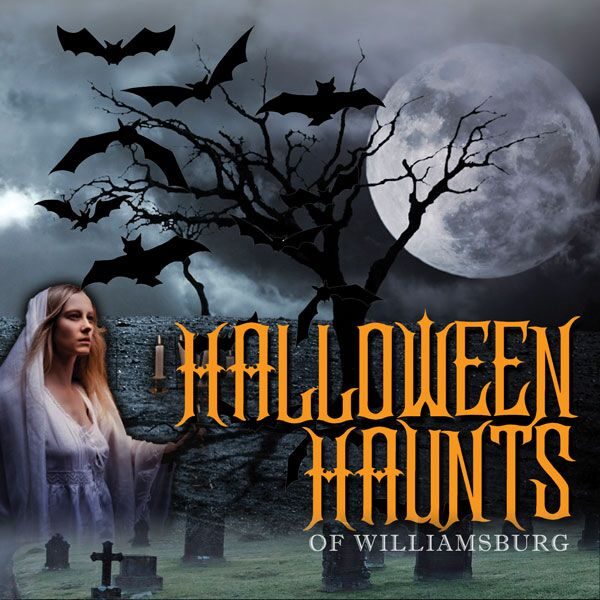 Walk through historic streets as expert storytellers guide you on candlelit tours through Colonial Williamsburg and other locations throughout the area. You'll learn about strange characters and occurrences, hear chilling ghost stories, and you might even see an unexplained figure. For adults over 21, there's a pub crawl that leaves from Precarious Beer Hall in Williamsburg for an adventure through the true stories of Williamsburg's most infamous crimes. The Original Ghost Tour is Virginia's oldest ghost tour and the 2nd oldest ghost tour in the nation. 
See the Fall Colors 
One of the best parts of the Fall season is how your everyday sights transform with bursts of color. What better place to see the changing of the leaves but in Williamsburg, Virginia?
Bundle up and head over to the College of William & Mary. With walkways lined with colorful trees and forest trails, you'll feel as if you were in an Autumn wonderland.
To enjoy the colors alongside some shopping and a bite to eat, visit Colonial Williamsburg to see it transform with trees of gold, yellow, and orange. If you'd rather stay in the comfort of a heated car, drive down to Colonial Parkway and enjoy 23 miles of serene beauty. For some extra history alongside your sightseeing, consider visiting one of Williamsburg's many historic parks. Colonial National Historic Park, for example, is highly praised for being informative and boasting spectacular nature views. Be sure to check any park's websites for hours and possible fees.
Ride the Capital Bike Trail 
Interested in some history and adventure? All paved 52 miles of the Capital Trail is open for runners, walkers, skaters, cyclists, and dog walkers alike. The Trails run through Richmond, Jamestown, and Williamsburg, meaning that there are plenty of attractions to stop by along the way. Riders pass by the first settlement in Jamestown, Revolutionary War battlegrounds, the Sherwood Forest Plantation – home to President John Tyler in the mid-1800s – the Charles City County Courthouse and many other sights.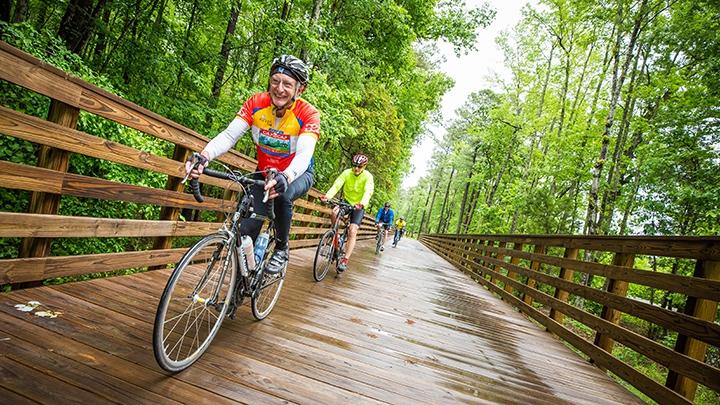 Though the Trail is free from cars, it is still used by hundreds of people every day, so be sure to check the website for Trail etiquette!
For a welcome oasis during your travels, be sure to stop into Spoke & Art Provisions for snacks, ice cream, souvenirs, and much more. 
Colonial Ghosts 
Do you believe in ghosts? Colonial Ghosts, one of the Top 10 Ghost Tours in America, might convince you. Promising a genuine experience with real hauntings, Colonial Ghosts is backed by renowned psychics, investigators, and guests who claim to have witnessed paranormal activity. Even if you don't happen to get a visit from a ghost, Colonial Ghosts is also an extremely informative and immersive experience. With up to 18 stories dealing with Colonial History, the Civil War, the Spanish Flu, and other historical events that are often glanced over when discussing the history of Williamsburg, you'll be possessed by a need to learn more. colonialghosts.com
Markets & More
Williamsburg Farmers Market
Visit the Williamsburg Farmers Market in Merchants Square, selling fresh and seasonal products including fresh seasonal produce, meats, seafood, baked goods, honey, cheese, cut flowers, handmade soaps, and more.
To view the complete list of vendors, click here.
Merchants Square- Williamsburg 134 N Henry Street
Yorktown Market Days
The waterfront farmers market along the York River offers a variety of locally-produced goods including fresh seafood and produce, handmade crafts, soaps, candles and gifts, pet items, plus locally-made honey and more. The market runs every Saturday 8 am – 12 pm or 9 am – 3 pm through December 10. Learn more.
Halloween Events for the Kids
Boo! With Williamsburg's fun family vibe, rich history, beautiful fall weather, and diversity of activities – it's the perfect place for people of all ages to get into the Halloween spirit.  From the Boo Bash at the Beach, to top spots for Trick or Treating, plus Hayrides, pumpkin picking, and more – be sure to check out our top picks to enjoy Halloween with the kids in Williamsburg. Learn more.
Here's a few highlights
Trick or Treating James City County, Williamsburg, and York County, trick or treating will take place 6 – 8 pm for children 12 and under
Trader Joe's Fall Festival Face painting and mini pumpkin decorating for the kids, fall flower arranging demonstrations, plus wine, beer, and food sampling for mom and dad. Sunday October 23rd, 12 pm – 4 pm, 5000 Settlers Market Blvd, Williamsburg
Haunting on DOG Street On October 29, experience the thrill of fall with lit cressets, painted horses, and spooky street performers throughout the Historic Area. Get Tickets
Halloween with Heros Enjoy a fun and safe trick or treating event with all our local County heroes! Children of all ages are invited to trick-or-treat while visiting with local first responders. Oct. 26 from 6-8 p.m. Law Enforcement Center (4600 Opportunity Way, Williamsburg) 
Boo Bash Costume Party The BAEPLEX BOO BASH and Costume Party will be held on Saturday, October 29 from 5pm-9pm. The event features halloween crafts, games, costumes and more! Call (757) 229-2237 for more details.
Visit the Williamsburg Winery 
Located on the southern side of Williamsburg, the Williamsburg Winery is a serene escape that is not only full of history, but includes a tasting room, restaurants, inns, and wonderful hospitality. The restaurant features a beautiful patio and is a beautiful spot for an afternoon fall lunch. On chillier days, the indoor dining room is warm and cozy. They also host wine tastings, wine education series, live music and concerts, plus various seasonal events.
5th Annual Fall Oyster Roast
The 2022 Oyster Roast will be held Sunday, November 13th from 1-3 PM in Wessex Hall at the Williamsburg Winery. The Wessex Hundred Culinary Team will be preparing oysters all afternoon long for you to enjoy! Each ticket includes unlimited food and a drink ticket for 1 glass of wine or 1 beer. A cash bar will serve a selection of Williamsburg Winery wines by the glass as well as local craft beers. 21 years of age and up only. Learn more
Check Out Our Local Beer 
Precarious Are you ready to "live your life Precariously"? Known for their creative and modern crafted beers, Precarious Beer brings a new approach to your drinking experience. Precarious Beer Hall also hosts various musicians of different genres, so there's always something for everybody and a chance to experience something new. 

Virginia Beer Co Virginia Beer Co is located in The Edge District, Williamsburg's most up-and-coming location. at 401 Second Street. It's a friendly little spot to grab a beer, play a board game, or just hang with friends. Sunday Sounds & Sippin is held every Sunday April 24 – October 30, 2022, 2pm – 5pm and features food trucks, live music, and tasty brews.

Frothy Moon Frothy Moon Brewhouse is a new addition to Williamsburg. In addition to a delicious lineup of beers, they also offer mimosas, coffee, live music, and food trucks.
Alewerks Alewerks is a fun and friendly little brew house that is a locals-favorite. Besides the delicious beer, various food trucks are usually on hand, and they also offer special nights featuring karaoke, games, bingo, or live music.
Check out the WilliamsburgVisitor Live Music Finder and Food Truck Finder for more.
Colonial Williamsburg 
A Williamsburg staple, Colonial Williamsburg has a special charm during Fall. October is October LGBTQIA+ history month and features Colonial Williamsburg's ongoing research that uncovers the stories of people from all backgrounds, races, gender identities, and social levels. November is American Indian Heritage Month with special program to honor and educate. For Halloween themed fun, CW offers ghost tours and junior ghost tours for the kids, plus evening entertainment that includes Lighting of the Cressets, theatrical performances, and concerts. Learn more. 
William & Mary Football Games 
Put on your William & Mary gear – it's time to support the Tribe! The stadium is beautiful so it's always a good day for a game. You can enjoy a stroll through the yellow, orange, and red leaves on the campus of William & Mary, and then grab a hotdog, beer or other refreshment and cheer on Williamsburg's favorite team. Learn more on their website.
Golf 
Play Golf? Williamsburg is perfect for all your golfing needs, with typically beautiful weather and more affordable villa rentals. Visit the Williamsburg National Golf Club, featuring challenging courses and a gold clubhouse with the 1607 Grill serving your favorite American Fare. Kingsmill Resort is also providing amazing Golf vacation packages, such as the Kingsmill Elite Golf package including unlimited play on their River or Plantation Courses, complimentary golf cart and gold bag tag, and much more.
Pumpkin Patches 
Nothing screams "It's Fall!" more than a bright orange pumpkin by the front door. Visit one of Williamsburg's many Pumpkin Patches to find yours, while discovering more of what they have to offer.
Some Pumpkin Patches we recommend are College Run Farms, which includes a Corn Maze and homemade ice cream, Pumpkinville, a seasonal treasure with a large selection of fall vegetables and decorations, and Holly Fork Farm, a family farm that offers farm fresh eggs and classes with subjects ranging from soap making to canning.
Visit the Plantations 
Historic estates and large acres of land – a walk through one of Williamsburg's beautiful plantations are a source of both history and special events this season. Stop by Shirley Plantation, established in 1613 and overlooking the James River and Boxwood Gardens and boasting beautiful fall colors.
Berkley Plantation is hosting two ghost tours – the Hauntings Tales & Tours and the Twilight Ghost Tour – as well as their Virginia Thanksgiving Festival November 3rd, celebrating the 400th anniversary of the first English speaking Thanksgiving in the New World. The festival will have dancers, food, crafts, and much more!
---
story by WilliamsburgVisitor.com writer: Cheyenne Morrison