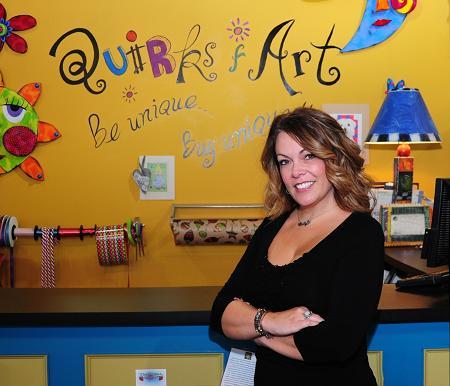 Jennifer Raines, a local business owner, has announced the closing of two beloved Williamsburg, Virginia retail stores – The Sideshow and Quirks of Art.
Choosing a New Path Forward
Raines cited increased leasing costs (estimated at $950,000 through the years), and a newly increased sales tax as the primary reason behind the closings. "3-year lease renewals do not jive with my goals and future plans for the business," she said. Both Quirks of Art, located on Prince George Street, and The Sideshow, located on Boundary Street, had 3 year leases.

The Sideshow Gallery, a popular shop for art, gifts and unique finds, was featured in Southern Living Magazine last year.
---
---
A New Venture: Spoke & Art
Raines, who also own co-owns Spoke & Art Provisions Company with Steve Rose, spent three years renovating the Route 5 location. She said in an email that they will maintain a retail presence at that location and is planning many new and fun events. Raines has also partnered with Kendra Law in designing and creating their own range of products under the brand Lipstick & Chrome.
Raines plans to create Holiday Pop-Shops next fall, and her growing website business will continue to operate at www.kinksandquirks.com 
"Over the last few years, my vision for what my business will grow into, and that which brings me satisfaction and joy has changed," Raines said. "I want my business to continue to feed my creative spirit, to be a place that I love to put my soul into, and to continue to inspire and bring others joy."
"It's gonna be magical," she added. "I can't wait to show you."
Quirks of Art will close in February 2020 and The Sideshow will close April 2020. Items in the stores are being liquidated 25-75% off, including furniture, fixtures and shelving. Learn more about the sale here.
QUIRKS ~ 423 Prince George Street Williamsburg VA
Tentative last day is 2/24 
Current Hours: Tues-Fri 12-5, Sat 10-5, Sun 12-5
Everything is now 25% – 75% OFF 
Fixtures will be priced as marked and will be eligible to be picked up AFTER 2/1
Further reductions will happen quickly and will be announced on the Facebook Page

THE SIDESHOW ~ 221 N. Boundary Street Williamsburg VA
Tentative last day is 4/25   
Everything is now 25% OFF 
Current Hours: Sat 10-5, Sun 12-5, Mon-Fri by appt. only
Fixtures will be priced as marked and will be eligible to be picked up AFTER 3/15
Further reductions will be announced via the Quirks Facebook page
Thanks for reading. All WilliamsburgVisitor.com content, articles, news updates, event calendars, Food Truck Tracker and Live Music Finder are always free!