"The Lover's Lane Murders" is a working title for an upcoming television show on the Oxygen Network about the Colonial Parkway murders in Williamsburg Virginia.
The Colonial Parkway murders were a series of deaths that occurred from 1986 through 1990 along the scenic but isolated Colonial Parkway roadway. Over a 4 year span, multiple couples were murdered and the perpetrator/s were never caught. In some cases, the car glove boxes were open as if the victims were reaching for their driver's information – lending to the theory that the murderer may have been a member of the law enforcement community or someone posing as an officer.
The new Oxygen channel TV series features a team of former FBI agents and FBI Profiler Jim Clemente who will take a fresh look at the evidence with the hopes of solving the crime and ultimately bringing the murderer to justice. Clemente, who worked for the FBI for more than 20 years, has previously been associated with the Quantico and Criminal Minds shows.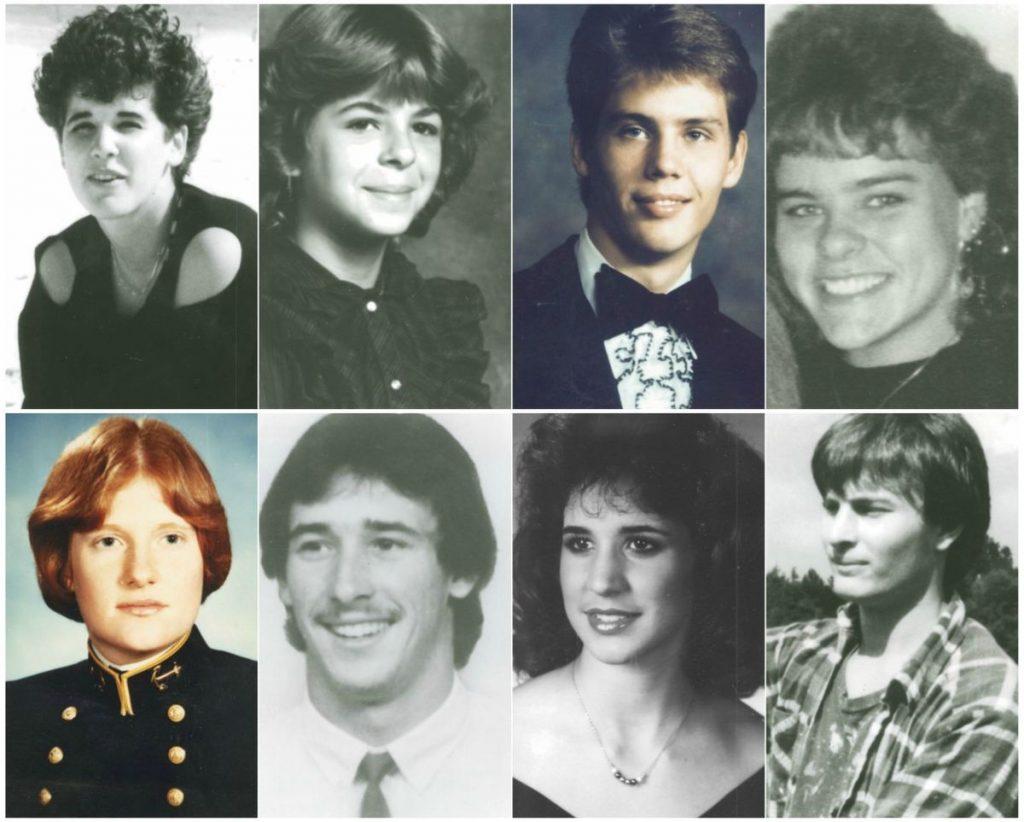 Victim Timeline
October 12, 1986
Cathleen "Cathy" Thomas, a 27-year-old graduate of the Naval Academy, and Rebecca Ann Dowski, a 21-year-old William & Mary student, had been missing since October 9. On October 12, they were found dead in their car on the Colonial Parkway. Both had been strangled and had such severe cuts to their throats that they were nearly decapitated. Dowski's body was in the backseat and Thomas was in the hatchback. There was no evidence of sexual assault however the killer did make a failed attempt to douse the car with gasoline and light it on fire. Investigators believe that their bodies had been relocated from the actual murder scene. The victim's handbags and personal belongings were still in the car, appearing to rule out robbery as the motive.
September 22, 1987
David Knobling, 20, and Robin Edward, 14, had been missing since September 19. Their bodies were discovered on September 22 near the Colonial Parkway in a parked car next to the James River Bridge. Investigators believe the couple were romantically involved. The victims had both been shot and the driver's side window was partially rolled down, supporting the theory that the perpetrator could've been posing as a police officer when the couple was interrupted.
April 11, 1988
Christopher Newport University students Cassandra Lee Hailey, 18, and Richard Keith Call, 20, were reported missing on April 10 after attending a party together. Call's car was discovered on April 11 at the York River Outlook on the Colonial Parkway – along with their personal belongings including clothes, a wallet, and a purse. Their car was only about 2 miles from where Thomas and Dowski were discovered however Hailey and Call were never found.
October 19, 1989
Daniel Lauer, 21, and Annamaria Phelps, 18, were reported missing on September 5 after their abandoned car was discovered at an I-64 rest stop in New Kent. The victim's bodies were found on October 19 about a mile from where the car had been parked. The condition of the decomposed bodies made a cause of death impossible to determine, however there did appear to be stab marks on Phelps.
After these victims, the killings abruptly stopped.
Similarities and Differences
All victims were young couples who had been killed on or near the Colonial Parkway – and discovered near or in their cars. None had been robbed and there was no evidence of sexual assault. However, some believe that multiple killers were involved since one couple was strangled, another shot and another presumably stabbed. Some speculate that another care, Julie Williams, 24, and Lollie Winans, 26 murdered in 1996, were also linked, despite the murders taking place in Shenandoah National Park. The victims has had been bound, gagged and their throats slit – similar to Thomas and Dowski.
An update in 2018 revealed that DNA, including hair and a biological sample, had been discovered that may potentially link the cases.
Oxygen Media, owned by NBCUniversal and a subsidiary of Comcast, is the home for quality true crime programming. They were named one of the fastest growing networks in basic cable with over 13.6MM live streams and 11.1MM on-demand views and more than 77.5MM subscribers. The Oxygen Network is producing a number of new crime-related shows including projects that feature Kim Kardashian, Nancy Grace, Mark Wahlberg and Ice-T.
The network cast actors for the Colonial Parkway series in October 2019. The story has previously been explored on the tv shows Real Stories of the Highway Patrol, THS Investigates Serial Killers on the Loose, Dark Minds, among others. The Daily Press has also extensively covered the topic.
As of this writing, an air date has not been set for the "Lover's Lane Murders" tv series. Stay tuned!
---
story by WilliamsburgVisitor.com writer: Katie Miller

Thanks for reading. All WilliamsburgVisitor.com content, articles, news updates, event calendars, Food Truck Tracker and Live Music Finder are always free!
---
---
---