Williamsburg Virginia Holiday Fun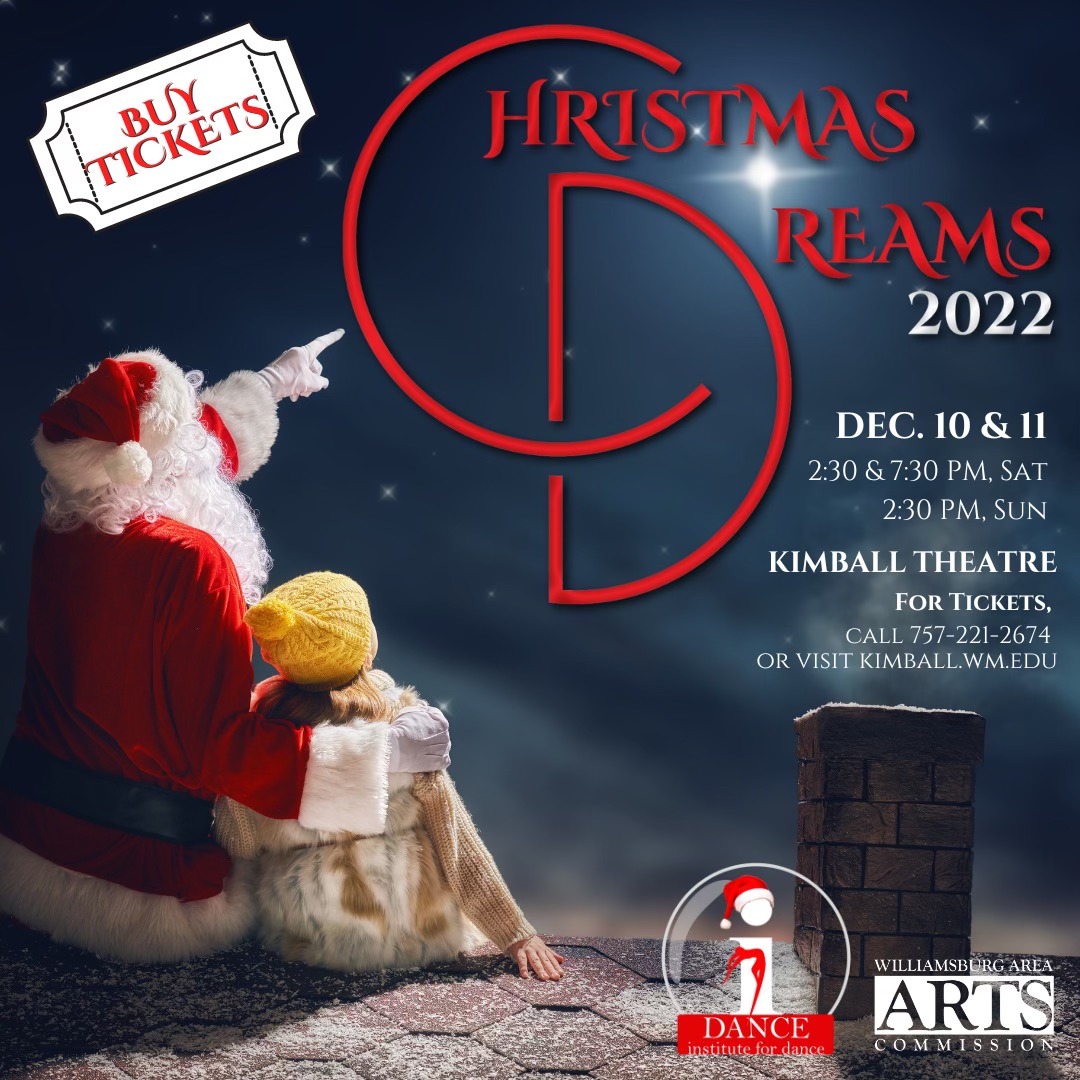 iDance Presents Christmas Dreams
December 10, 2022 at 2:30 PM & 7:30 PM
December 11, 2022 at 2:30 PM
Kimball Theater
PURCHASE TICKETS
It's Christmas in Williamsburg and Janie Sparkle wants just one thing this Christmas–for all her wishes to come true! An unexpected event occurs and stands between her and Christmas morning. Janie finds herself in an enchanted world where nothing is as it seems. Come join Janie on her magical journey home, presented exclusively by Institute for Dance, Inc.
Institute for Dance, Inc. (iDance) has created a unique-to-Williamsburg holiday show, Christmas Dreams. It is written, choreographed, propped, narrated and performed almost entirely by our local dance studio, with support from the community. As an alternative to the normal holiday productions, Christmas Dreams provides residents and visitors an exciting way to enjoy the season.
Kimball Theatre
428 W Duke of Gloucester Street
Williamsburg, VA 23185
For more information please visit
www.institutefordance.org
DANCE – PERFORM – COMMUNITY
Our mission is to support our community by instilling the love of dance and performance through teachers who value, nurture, correct and encourage student potential.
We will accomplish our mission by encouraging:
Students to become better dancers in discipline, technique and artistic expression;
Students who grow to be confident, ambitious, poised and creative individuals;
Students to develop an appreciation for community enrichment by improving the health and quality of life of those they meet.
TAKE MY HAND, I'LL TEACH YOU TO DANCE.
Institute for Dance, Inc. is a registered 501(c)(3) non-profit organization.