Unique and Local Holiday Shopping in Williamsburg
by Williamsburg Staff
'Tis the season! Williamsburg Virginia is particularly enchanting during the holidays. Just about every corner is lit and every window is dressed with the sights and sounds of Christmas. Whether you stroll through the merchants of the colonial area or shop the deals at Williamsburg's modern retail centers, you are sure to find a perfect gift or unique stocking stuffer for everyone on your list. To make your holiday shopping a breeze – check out a few of our recommended local stores and retail centers:
William & Mary Bookstore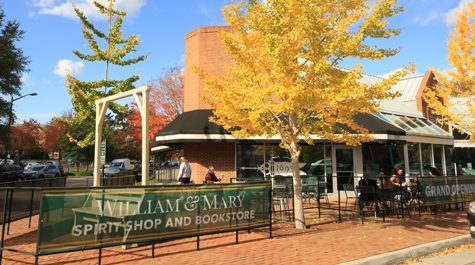 A favorite holiday shopping destination in Williamsburg, Virginia is the William & Mary Bookstore. It's new location is now open at 601 Prince George St.
The bookstore has long been a locals-favorite place to get William & Mary spirit items and other W&M and Williamsburg-area gifts. The store is operated by Barnes & Noble College and relocated from its former home in Merchant Square. Read MORE…
Williamsburg Antique Mall
An often overlooked shopping gem in Williamsburg Virginia is the Williamsburg Antique Mall. It is over 45,000 square feet of space and the 400 local dealers at this antique mall are unique and well organized. It is a great spot to spend an hour or 2 away from the traditional shopping most tourists find. There is a small cafe inside that serves yummy bakery items and small sandwiches as well as traditional English tea. The access road is easy to miss it runs just beyond a road front modern shopping strip.
The Antique Mall  is located at 500 Lightfoot Rd
 Williamsburg, VA 23188-9009  Tel:757-565-3422 Because of Covid, Hours vary. Call in advance.
Spoke + Art Provisions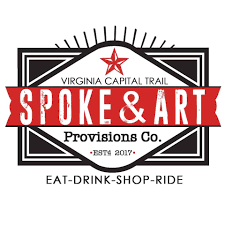 Spoke + Art Provisions Co. is a new community gathering spot located directly on the Virginia Capital Trail. Their retail store features unique Virginia related gifts for the hard to find person in your family. The store serves up ice cream, snacks, sodas, along with the gifts. We highly recommend the Curry Chicken Salad Wrap with apples and walnuts. The offer bike rentals and the outdoor patio is a locals favorite spot to listen to live music. Check out their website or the Williamsburg Live Music Finder for performances.
Whitley's Peanut Factory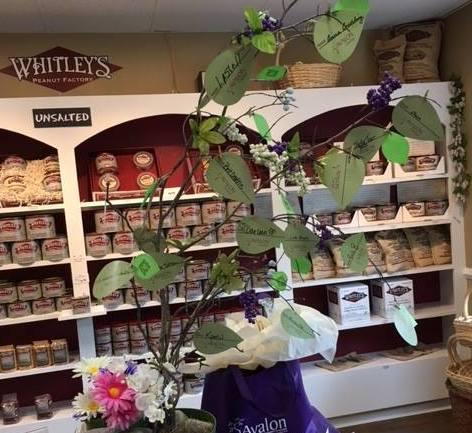 Know someone who loves peanuts? Stop by Whitley's Peanut Factory and give them the best, freshest, and most delicious peanuts you'll find. Whitley's has been producing gourmet peanuts and treats since 1986. Whether you're looking for a stocking stuffer or something bigger, this friendly little shop is the perfect stop. From fancy white chocolatey cranberry peanuts, to holiday mixed-nut tins, to traditional dry roasted favorites – plus fun items such as tumblers, calendars and more – Whitley's makes the perfect gift for your party hostess, teacher, co-worker, or Secret Santa. Check out their website and sign up for emails with discounts on select items. Whitley's Peanut Factory is located at 1351 Richmond Rd, and is open from 9:15am to 8:00pm Monday through Friday, 9:30am to 8:00pm Saturday, and 9:15am to 6:00pm Sunday.
https://www.whitleyspeanut.com/
Lucky Junque

After a full day of history and shopping in and around Colonial Williamsburg Virginia, take Route 60 out of town heading north and stop by Lucky Junque. You won't be disappointed. This classic and quirky antique, and revitalized home decor store is a local's favorite. Janet McCartney opened the store in 2018 and created the gem you find today. If you visit on the weekend you'll also have access to the expansive barn offerings out back. Don't miss the Lucky Junque. Location : 7787 Richmond Rd, Toano, VA 23168
Christmas Mouse
The Christmas Mouse has 9 year round locations, but the Williamsburg, Virginia location is considered its flagship store. Located right in the heart of Richmond Road (1991 Richmond Road) the store is easy to get to and even easier to make part of your lunch or dinner plans.
The current store is well over 10,000 sq feet of holiday cheer.  The Williamsburg store sets itself apart with a staircase that leads to a beautifully decorated tree with gold ornaments accented with Swarovski crystals. It also carries a large selection of personalized ornaments and plenty of nautical ornaments for those vacationing on the water.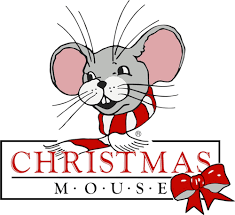 Nautical Dog
Is there a furry friend close to your heart? Our pets are sometimes one of our closest companions so it only seems right to put something under the tree for them. That's why Nautical Dog is your one-stop-shop to surprise your pet with a little gift to thank them for their unconditional love! The store is locally owned and features a wide array of goods and services such as toys, treats made in their very-own bakery, a doogie cookie bar, and natural pet foods. Of course, dogs are welcome inside, so feel free to let them have a sneak peek!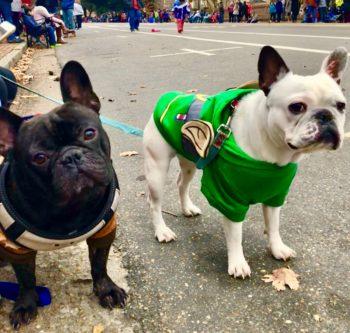 Nautical Dog is located at 5104 Main St in the heart of the New Town shopping area and is open from 10:00am to 6:00pm Monday through Saturday and 12:00pm to 5:00pm on Sunday. (Hours may change seasonally). Be sure to sign up for the mailing list of their website for news and discount coupons!
http://www.nauticaldogwilliamsburg.com/
Three Sisters Boutique
If you're shopping for someone who likes trendy and unique clothes then Three Sisters is a treasure trove! The boutique features stylish clothes for women and girls of all ages – all of which represent the finest quality at the best possible price. The staff is welcoming and wholly dedicated to making every woman who walks in feel special by uncovering her hidden sense of creativity and independent style. The shop was created by sisters Maria, Abbey and Anna who each bring a personal and unique style.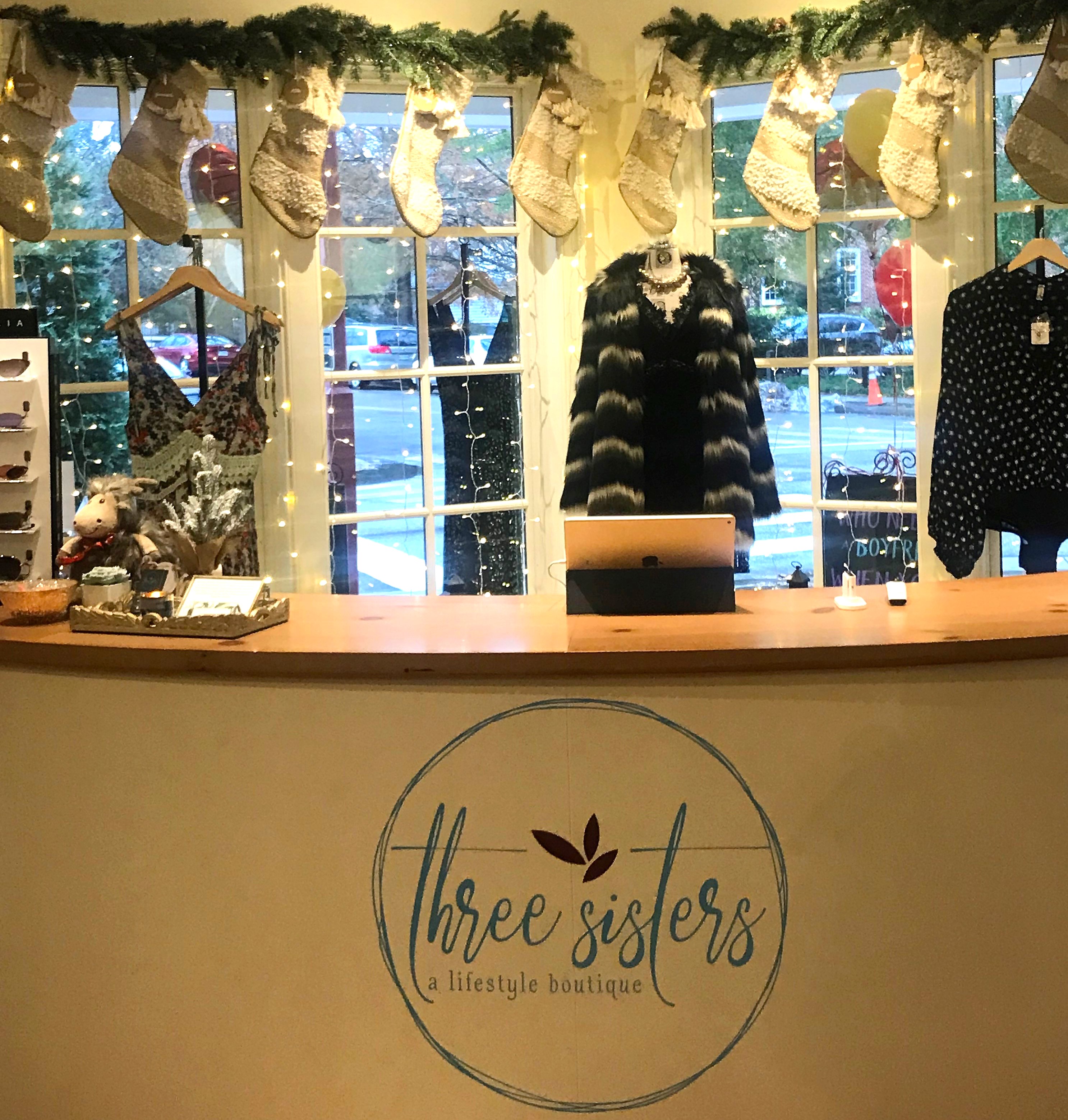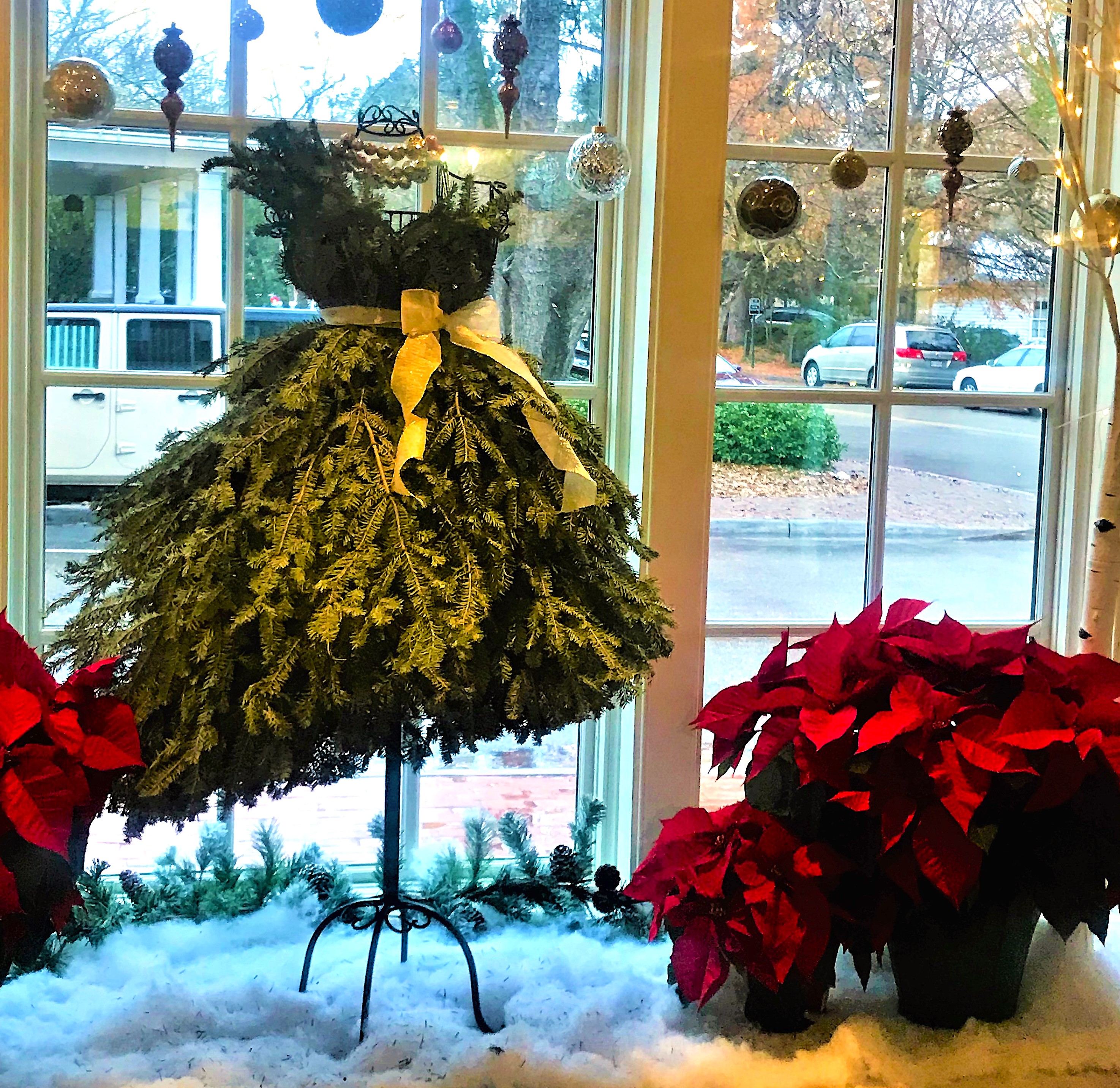 Three Sisters Boutique is located at 525 Prince George St #103 in Merchants Square and is open from 10:00am to 8:30pm Monday through Thursday, 10:00am to 9:00pm Friday and Saturday, and 12:00pm to 8:00pm on Sunday. Order online for free shipping opportunities and 20% of an online purchase of $150 or more!
https://www.shopthreesisters.com/
Bruton Parish Gift Shop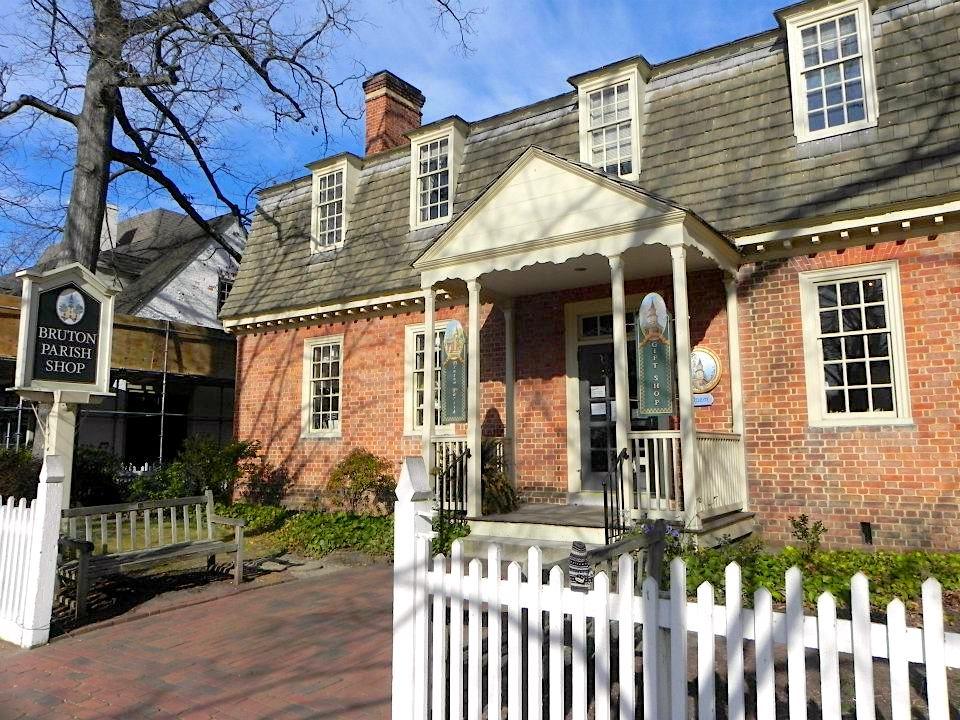 Located in the heart of Colonial Williamsburg in a charming little house, Bruton Parish Gift Shop has been active since the beginning of the city itself. During the holiday season, the store sells seasonal products, crafts, accessories, and other finds. The selection changes throughout the year to include jewelry, books, and more. Bruton Parish Gift Shop is a fun and friendly place, and all proceeds go to supporting missions and outreach of the Bruton Parish Episcopal Church. Located in the restored area, Bruton Parish Gift Shop is one block west of the Church at 331 Duke of Gloucester and is open from 10:00am to 5:00pm Monday through Saturday and 1:00pm to 5:00pm on Sunday. Parking is available behind the Parish House in the public parking lot on Prince George Street.
http://www.brutonparish.org/shop
A Touch of Earth Gallery
Have a friend or family member who has a love for the arts and local artists? Then swing by A Touch of Earth Gallery, a local American Craft Gallery with wonderful customer service that has been active for 34 years. The Craft Gallery is filled with beautiful and high-quality pottery, jewelry, lamps, fine art, and much more. Many products found here are truly original pieces crafted by local Virginia artists, making the gallery an essential partner in helping Virginia stay creative and artistic. A Touch of Earth Gallery is located at 6580 Richmond Road and is open from 9:30am to 5:30pm Monday through Saturday and 12:00pm to 5:00pm on Sunday.
http://www.atouchofearthgallery.com/
Lazy Daisy Gift Store
Voted Richmond's best by the Richmond Times for the third year in a row, the Lazy Daisy is a gift store that provides refurbished and restyled furniture and decorations, handmade gifts and jewelry, and various unique finds you can't find anywhere else. Now with five locations, including one in Williamsburg, Lazy Daisy was created to honor the founders' son, Morgan, who she tragically lost when he was just 7 years old. Warm your heart and the hearts of others by stopping by this holiday season to experience the true spirit of Christmas.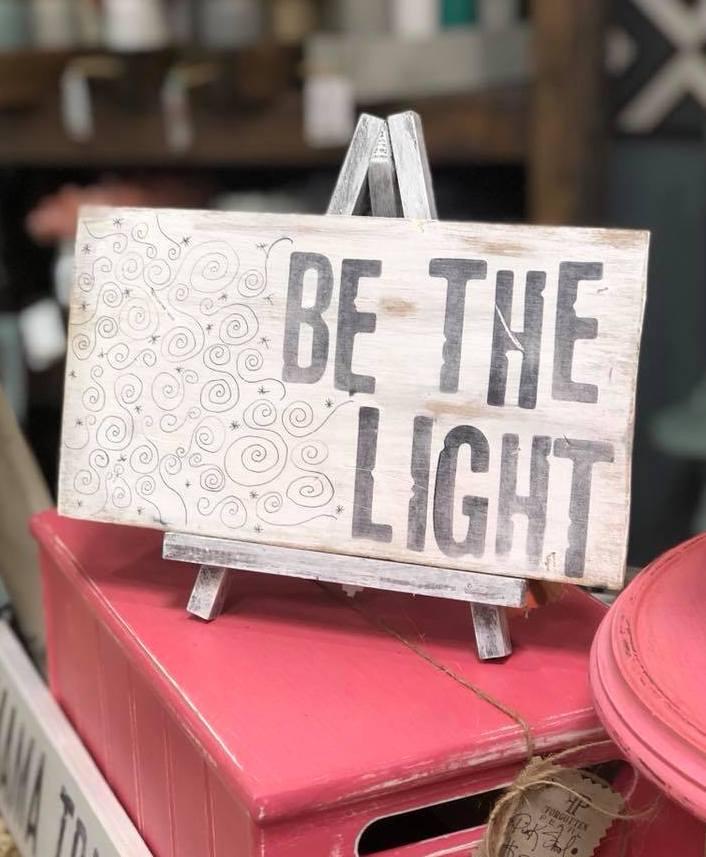 The Lazy Daisy Williamsburg is located at 3032 Richmond Rd and is open from 10:00am to 6:00pm Monday through Saturday and 12:00pm to 6:00pm on Sunday.
http://lazydaisygiftstore.com/ 
Shopping Centers and Flagships Stores
Williamsburg Premium Outlets
With an assortment of brands to choose from, Williamsburg's Premium Outlets allow you to shop for the entire family – all in one spot. Make sure to check their website to see seasonal deals and sales, as well as store hours – which change seasonally. The Premium Outlets are located at  5715 Richmond Rd.
https://www.premiumoutlets.com/outlet/williamsburg
Williamsburg Pottery
Founded by James Maloney in 1938, the Williamsburg Pottery began as a roadside dream and turned into a local empire that still runs 80 years later. After the 2012 reconstruction, a  unique shopping experience was created that features four buildings dedicated to specific household items, and includes their own Café Bakery: Au Bon Pain. Dedicated to serving Virginia's finest and most unique food and products, Williamsburg Pottery is a "Marketplace for All" and will make your Christmas shopping an adventure with affordable prices. Williamsburg Pottery is located at 6692 Richmond Road and is open 10:00am to 7:00pm Monday through Thursday, 10:00am to 8:00pm Friday, 9:00am to 8:00pm on Saturday, and 10:00am to 6:00pm on Sunday.
http://williamsburgpottery.com/
Merchants Square
Right beside the Colonial Williamsburg Historic Area, Merchants Square is an 18th century styled retail village with over 40 stores, restaurants, and gift shops at your disposal. With gorgeous Christmas decorations and a lot of holiday cheer, plus restaurants and seasonal events, it will be fun for the whole family. From Williams & Sonoma to the Wythe Candy & Gourmet Shop, the Spice & Tea Exchange, the William & Mary Campus Shop – and so much more – you're sure to find the perfect gift while having holly-jolly fun.  Merchant Square is located at 134 North Henry. Check the website for parking, hours, and holiday events.