Nestled in the heart of Williamsburg, Virginia, Merchant Square stands as a vibrant hub of history, culture, and commerce. This charming and strollable market beckons visitors with its quant shops and restaurants, perched in a picturesque setting. One restaurant in the area that isn't to be missed is Amber Ox – a culinary gem offering an eclectic menu in a casual and vibrant setting.
Calling itself a "Seasonably Inspired Brewpub with a Modern Approach," the menu at Amber Ox is a delicious fusion of American and Southern flavors, crafted with impeccable attention to detail. Each dish is a work of art, beautifully presented and bursting with exquisite flavors. Whether you're a meat lover or a vegetarian, the menu offers a diverse selection to cater to different preferences and dietary needs.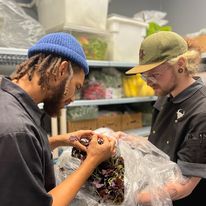 Not to be missed: the biscuit board served with house butter and preserves. Or the potted pimento cheese, public house poutine, or the cauliflower burnt ends with a side of harissa aioli. There's also wood grill asparagus, bone-in pork chop, grilled Joyce Farms duck leg, lamb sumo, fiddlehead fern gnocchi, Black Sea bass, and – of course – the AO Bacon Burger with gruyere cheese and lacquered bacon.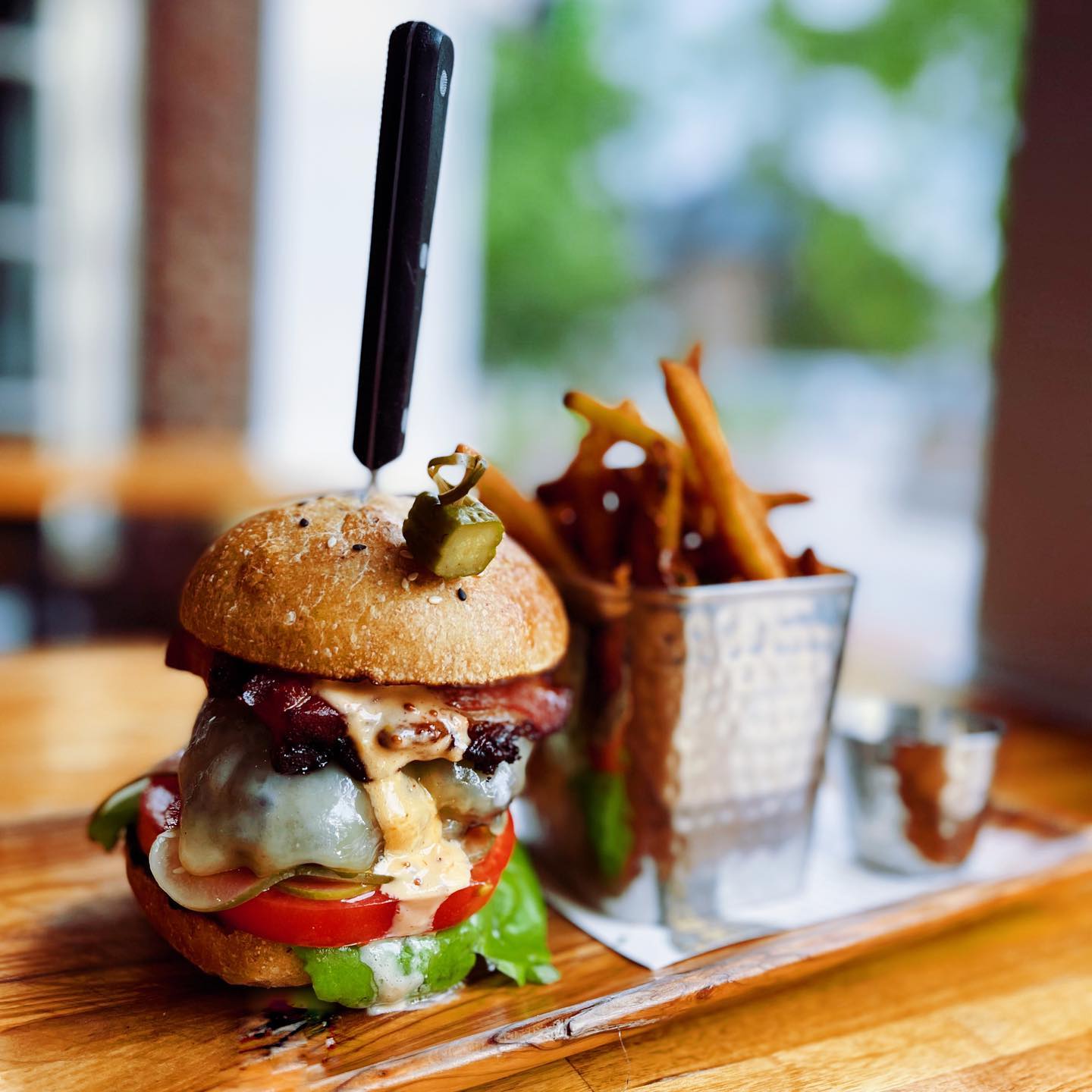 One of the standout features of Amber Ox is their commitment to sourcing local and sustainable ingredients. The farm-to-table approach ensures that every dish is prepared with the freshest and highest quality ingredients, resulting in a truly exceptional dining experience.
If you haven't worked up an appetite yet, the beverage program at Amber Ox will wet your appetite. Featuring a thoughtfully curated selection of craft beers, wines, and cocktails, plus speciality drinks like the Sakura Fubuki, Bad Romance, and the Bend & Snap. There's even a delicious selection of fun cocktails and an impressive list of local ales.
In terms of ambiance, Amber Ox strikes the perfect balance between modern sophistication and a relaxed atmosphere. The restaurant features tasteful decor, comfortable seating, and a spacious layout that allows for intimate conversations or larger group gatherings. It's an ideal setting for a romantic dinner, a celebratory meal, or simply a casual hang-spot before touring the town, visiting the campus of William & Mary, or strolling down DoG street.
With its creative menu, emphasis on local and sustainable ingredients, exceptional service, and inviting ambiance, Amber Ox offers a dining experience that delights the senses and leaves a lasting impression. Whether you're a local resident or a visitor to Williamsburg, this restaurant is a must-visit for anyone seeking an unforgettable gastronomic adventure.
525 Prince George St Suite 102, Williamsburg, VA 23185
hours:
monday: 2p-9p
tuesday: closed
wednesday & thursday: 2p – 9p
friday: 2p – 10p
saturday: brunch: 10a – 2p | dinner: 2p – 10p
sunday: brunch: 10a – 2p | dinner: 2p – 9p
last seating in the dining room is 1hr before closing
indoor bar area is first-come, first-served
contact:
phone: 757.790.2299
email: info@theamberox.com