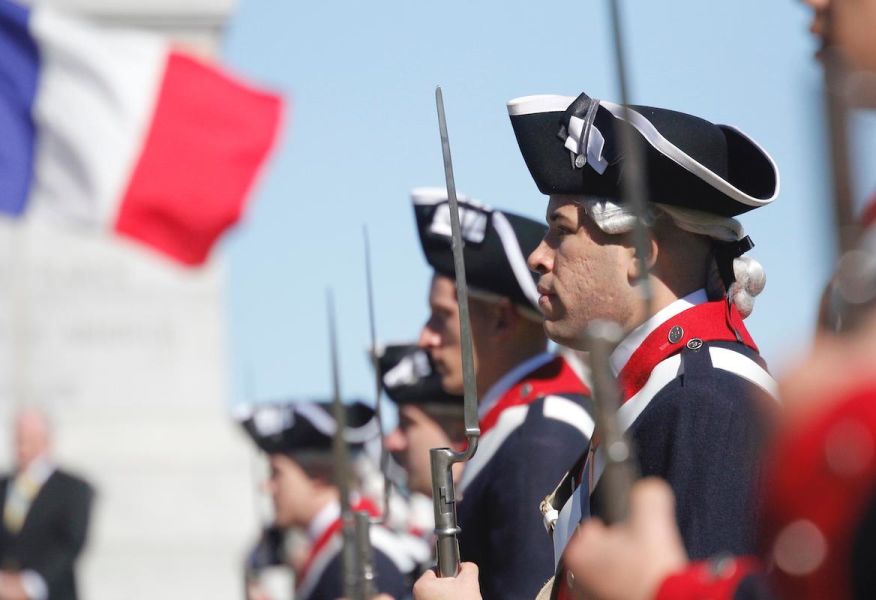 2022 Yorktown Day
As always Yorktown day begins with a wreath-laying ceremony at the memorial and a parade.  Join in the festivities to commemorate 1781 the Siege of Yorktown and the later Revolutionary War victory.
The Yorktown Fife and Drums will perform. Be sure to visit all of Yorktown's historic sites, such as the Nelson House, Yorktown Custom House, York County Historical Museum, Watermen's Museum, and the American Revolution Museum at Yorktown.
FULL SCHEDULE BELOW
Yorktown Day Schedule of Events Wednesday, October 19, 2022 (Schedule subject to change)
8:30 am – Commemorative Ceremony at the French Cemetery, Yorktown
Battlefield, sponsored byThe American Friends of Lafayette andThe
Friends of Rochambeau (depart for Cemetery from Surrender Field)
9:10 am – Commemorative Ceremony at the French Memorial honoring the French
and American Alliance, sponsored by the French Wars Veterans
Association in Washington, DC
9:10 am – Wreath laying ceremony at the grave of Governor Thomas Nelson,Jr. at
GraceEpiscopal Church, Yorktown, sponsored by the Virginia Society,
Sons of the American Revolution
10:30 am – Yorktown Day Parade, Main Street, sponsored by Jamestown-Yorktown
Foundation
11:15 am – Patriotic Exercises and Memorial Wreath Laying Ceremony at the Victory
Monument, Yorktown, sponsored by the Yorktown Day Association and
the National Park Service at Colonial National Historical Park
1:00 pm to 4:00 pm – NPS historic structures throughout Yorktown, open for self-guided
tours including Dudley Diggs, Nelson House, Poor Potter, and Swan
Tavern
For more information on this event check out VisitYorktown.org
Thanks for reading. All WilliamsburgVisitor.com content, articles, news updates, event calendars, Food Truck Tracker and Live Music Finder are always free!