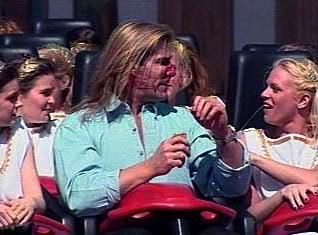 Where were you March 30, 1999? If you were at Busch Gardens, Williamsburg Virginia you might have seen one of the top supermodel's have a literally run in with a goose.
You were most likely singing along to "Livin' la Vida Loca" sung by Ricky Martin and talking about the new movie "The Matrix", starring Keanu Reeve, Lawrence Fishburne and Carrie-Ann Moss.
Well if you were Italian supermodel and actor Fabio Lanzoni your manager had you booked to celebrate the grand opening of "Apollo's Chariot" roller coaster. While there are plenty of shiny, newer and daunting coasters at Busch Gardens today, the smooth, purple and gold coaster with its open harness was the ideal ride to let Fabio's fabulous hair blow to its true glory.
But, anyone who has been to Williamsburg, Virginia knows geese are in plentiful supply. Moreover, geese tend to fly close to the ground. Just about the height of the lower, flat section of Apollo's Chariot.
So on this bright spring day, the supermodel extraordinaire met head on with a low flying goose. Fabio escaped with some cuts, and a bruised face and ego. The goose did not fare so well, it died.