King of Clubs Brewing Company recently opened two locations: a Speakeasy themed cocktail lounge, cafe, and restaurant located at the Williamsburg Premium Outlets at 5711 Richmond Rd Ste 32; and the King of Clubs Coffee Factory and Bourbon Barrel Brewery, located at 113 Palace Ln Unit D.
More than just a coffee shop, the King of Clubs cocktail lounge functions as a restaurant serving fun craft cocktails, and holds a variety of weekly events including Game Night, Trivia Night, Date Night, and other specials. The brewery and coffee roastery is an industrial production facility that offers behind-the-scene tours, and both locations offer event catering and private party rentals.
The locally owned company is known for its Nitro, Guatemalan, Colombia, and Cold Brews roasts but also serves delicious espresso and decaf roasts, and has k-cup pods available to purchase. They supply wholesale and retail locations including Earth Fare and The Peanut Shop, and sells packaged roasts to individuals.
Locally Owned, Locally Produced
King of Clubs offers locally roasted and brewed drinks free from flavorings and additives. Beans are aged in Williamsburg winery, Copper Fox Distillery, and New Kent Winery barrels. Their talented staff can even print images and messages in your coffee.
Tasting Room, Cocktail Lounge, and Cafe
Located next to the Vans store at Premium Outlets in Williamsburg, the cafe provides a comfortable and charming speakeasy-themed place to enjoy a drink and small plate food including crepes and paninis. Themed events are offered including Trivia Night, Game Night and discounted specials for locals. Each Thursday, their Date Night event offers two tasting flights and a charcuterie board.
Kombucha and Jun Drinks
Along with coffee brews, kombucha and jun are also produced. Kombucha is a carbonated, slightly sour beverage made from black tea and sugar. Jun, created from green tea and honey, has a more subtle flavor. Both drinks are believed to offer numerous health benefits by providing nutrients for SCOBY (symbiotic colony of bacteria and yeast) which can aid digestion, support joints, and boost the immune system.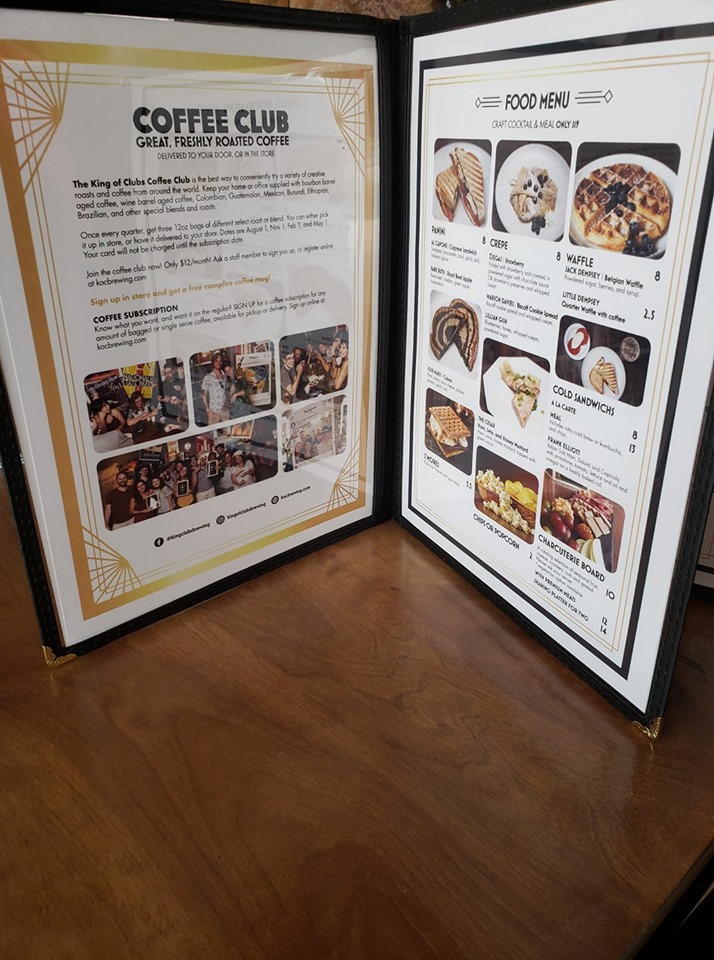 After receiving their brewery license in May, King of Clubs is now able to produce kombucha and jun bourbon-aged beer making the establishment the first dedicated kombucha brewery and cafe in Williamsburg, Virginia.
Daily Events & Specials
Monday – Industry Night: 20% off for teachers, emergency responders, restaurant workers, and the military.
Tuesday – Trivia Night: Every other Tuesday from 6:30pm – 8:30pm
Wednesday – Wine About It: Get 2 glasses of wine and a charcuterie board for $20 all day
Thursday – Tribe Day & Date Night: 20% beverages for William & Mary students wearing Tribe gear. Bring a date and get 2 flights and a charcuterie board for $35 from 4:00pm – 8:00pm
Friday – $1 Coffee Mornings: Start your Friday off right with $1 coffee when you bring your own cup. 9:00am – 11:00am
Sunday – Game Night: Enjoy our huge selection of board games plus $6 crepes and 50% off a glass of wine
Everyday – 24/7 Specials: On-duty police officers receive 30% off. Premium Outlet staff and teachers get 10% off with ID.
Coffee Club
The King of Clubs Coffee Clubs is a one-of-a-kind subscription service that delivers whole bean or ground, freshly roasted coffee right to your home or office. Signup in the store and you'll receive a free coffee mug.
King of Clubs Coffee is located in the Williamsburg Premium Outlets next to Vans.
Visit the King of Clubs website to learn more.
Story by WilliamsburgVisitor.com writer S. Morris / Want your business featured? Send email to tfitz@williamsburgvisitor.com
Thanks for reading. All WilliamsburgVisitor.com content, articles, news updates, event calendars, Food Truck Tracker and Live Music Finder are always free!
---
---
---